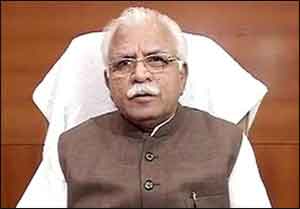 Chandigarh: Haryana Health Minister Manohar Lal Khattar today stressed on the need for doctors to behave well with patients and provide proper services so that their gesture would make them feel better.
He said that the infrastructure of the government hospitals would have to be made such that people start comparing private hospitals with these.
 "If doctors would empathize with patients then better results would be achieved," he said while speaking at the state felicitation ceremony for quality improvement in healthcare services, here.
Also, facilities of government hospitals would have to be improved to a level that well to do people would also come to these for treatment, he said.
Speaking on the occasion, Health Minister Anil Vij said that in order to further improve the quality of treatment in hospitals, the state government has set a target to get National Accreditation Board for Hospital certification for 84 hospitals.
He said that the target to get National Quality Assurance Plan certification for 44 hospitals would soon be achieved.
Vij said that Cath Lab facility has been provided in four districts of Haryana namely Ambala, Panchkula, Faridabad and Gurugram and efforts were being made to extend this facility to all hospitals in the state.
He said that dialysis facility has been started at 21 district hospitals and CT Scan, MRI facility would be given in all hospitals.
The health minister said that the state government has been improving the parameters of hospitals.
In order to facilitate the patients, best equipment and WHO grading medicines are being purchased, he said.
As a result of this, the interest of people has increased towards civil hospitals, he said.
An increase of about 20 percent has been registered in OPD and IPD services, he said.
He said that the Infant Mortality Rate of the state has reduced from 42 to 33, the Neonatal Mortality Rate has reduced from 28 to 22 and the Maternal Mortality Rate reduced from 146 to 127 per thousand.
Apart from this, the institutional delivery rate has increased to about 93 percent and sex ratio to 914 per thousand boys, he said.
6 comment(s) on Doctors should behave well with patients: Khattar