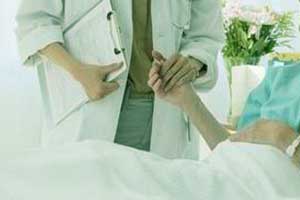 Ahmedabad: The Gujarat cabinet today gave its approval to a project, wherein doctors would visit elderly people at their homes to provide health care services to them at an annual fee of Rs 1,000.
Gujarat Deputy Chief Minister Nitin Patel told this to reporters after the cabinet meeting in Gandhinagar today.
"It has come to our notice that the number of elderly people living alone has increased due to several factors. Therefore, our government has decided to provide treatment to them at their doorstep," he said.
"The scheme will be launched in Gandhinagar on a pilot basis and citizens above 70 years of age can avail this facility by paying an annual token fee of Rs 1,000," he said.
If the pilot project succeeds, it will be replicated in other parts of the state as well, Patel, who also handles the health portfolio, said.
"In order to avail this service, senior citizens need to first register themselves at Gandhinagar civil hospital by paying Rs 1,000," he said.
Under the project, a team comprising a doctor, nurse and a paramedic would visit each elderly citizen, who has registered under the scheme, every 15 days, he said.
"The doctor would provide treatment to them and guide them for any health-related issue. The team will carry some basic medicines and various equipment like an ECG machine, to carry out on-the-spot assessment," Patel said.
In case of an emergency, the team would visit the patients at their home to treat them, for which they will have to pay Rs 200 per visit, Patel said.
In another important decision, the cabinet gave its nod to the proposal to reduce the rate of industrial land sold to micro, small and medium enterprises (MSME) by the Gujarat Industrial Development Corporation (GIDC).
"To promote the MSME sector, the GIDC will now charge only 50 percent of the actual price of the industrial plot of under 3,000 square meters," Patel said.
2 comment(s) on Doctors to give Home Visits to Elderly in Gujarat: State Cabinet approves Proposal