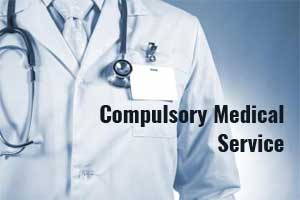 New Delhi: Observing the severe shortage of medical practitioners in the country, particularly in rural areas, the parliamentary panel constituted to give recommendations on the NMC Bill has stated that one-year rural service shall be mandatory for all MBBS passing out of government medical colleges.The committee also stated that doctors should not be simply allowed to pursue a career abroad without having spent some minimum time of service within the country
In the general recommendations provided by the Rajya Sabha Committee on the Bill, the panel pointed out that the students who are gaining their education at government medical colleges are indeed doing so at subsidized rates at the tax-payers money. It also made the observation that many of these leave the country at the first given opportunity. It, therefore, recommended that doctors would now have to serve in the country for a compulsory period before they are allowed to move out of the country for greener pastures
 The Committee is also given to understand that a large number of doctors who study in government medical colleges at the cost of the taxpayer's money leave the country at the first given opportunity. The Committee recommends that in all such cases a minimum compulsory period of working within the Country be prescribed before such Doctors can be allowed to serve outside the country.
The committee went on to recommend that all students passing out of the medical schools in the country must do one-year rural posting, a move that will address the shortage of medical practitioners in rural areas of the country
The Committee also recommends for consideration of a compulsory one year rural posting for all doctors graduating out of medical schools in the country subject to the condition that the requisite infrastructure facilities in terms of supporting staff, decent remuneration, necessary medical equipment and appropriate security are made available so that their training can be appropriately utilized for dealing with shortage of doctors in rural/remote areas of the country.
27 comment(s) on Doctors to Mandatorily Serve Within Country before Going Abroad: Parl Panel