Doctors working in Haryana to now register at Haryana Medical Council official website; Registration begins from 6th January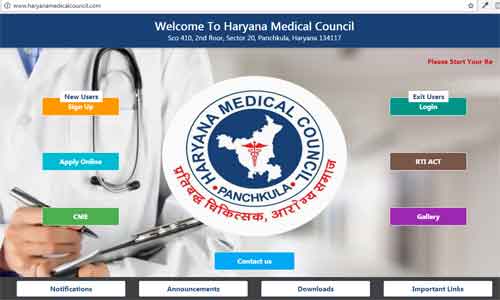 Haryana: Registration of all medical practitioners of modern medicine can now be done with a separate state medical council portal, now launched for Haryana doctors.
Haryana Health Minister Anil Vij recently launched a website www.haryanamedicalcouncil.com. The registration process at the Haryana Medical Council is set to begin from January 6th 2020. The doctors practising in the state can register themselves with the governing body from then.
While the Medical Council of India (MCI) is the apex medical regulatory body in the country, state medical councils are autonomous bodies established under the State Medical Council Act. Each of these Medical Councils consists of members elected by the registered medical practitioners and those nominated by the State Government.
All doctors have to be registered with their respective state medical councils which have substantial disciplinary control over the medical practitioners. They have the power to remove the names of medical practitioners permanently or for a specific period from their Registers when after due enquiry they are found to have been guilty of serious professional misconduct. These authorities governing the respective state medical councils are also authorised to direct the restoration of the name so removed.
Like many other states, Haryana government has launched its medical council so as to monitor the medical practitioners working in the state and provide better services to its doctors as well. Earlier, the medical practitioners working the state had to register with the Haryana Health Department. Now, with the state Medical Council's official website launched, the registration of old and new doctors can be done online.
Read also: Haryana Health Minister launches 'Malaria Free Mewat' campaign
The Haryana Health Minister Anil Vij said that the Health Department was instructed to digitally register all medical councils such as Homoeopathic, Nursing, Pharmacist etc. The doctors can register themselves online. He said that now registration of council has been made mandatory for all doctors. The doctors cannot practice without registration.
For more details, log on to the official website of the Haryana Medical Council as mentioned below:
Read also: All hospitals to be connected via hotline for uninterrupted electricity supply: Haryana Health Minister