Dr Bhasha Mukharjee, a 23 year old Indian Origin MBBS doctor crowned Miss England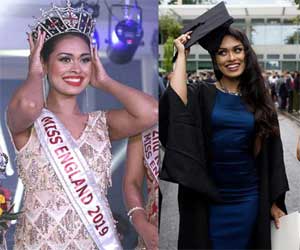 London: A 23-year-old Indian-origin MBBS doctor, Dr Bhasha Mukherjee has been crowned Miss England yesterday. The medico was due to start her new job as a junior doctor in a hospital in Boston, Lincolnshire, just hours after the Miss England final ended on Thursday evening.

Bhasha Mukherjee, from Derby, holds two different medical degrees, has an IQ of 146, making her officially a 'genius' and is fluent in five languages including English, Bengali, Hindi, German and French.

Bhasha Mukherjee, who moved to the UK from India with her parents aged 9. She went onto complete two bachelor degrees: one in medical sciences and one in medicine and surgery from the University of Nottingham.

After modelling for seven years, she became one of just 55 contestants to reach the finals of the Miss England pageant from more than 22,000 entries.

Mukherjee, who performed an Indian dance sequence for her talent round, has been running her own charity called the Generation Bridge Project since 2013, which supports Derby's elderly community with events like fun days and talent shows.

"Some people might think pageant girls are airheads, but we all stand for a cause," she said before the contest.

"My pageant career all started to happen while I was in the middle of studying at medical school - it took a lot of convincing for me to do it, but eventually I decided to do it to balance out my studying and give me a break."

As winner of Miss England, she will be entered into the Miss World contest to be held in December in London and will also bag a holiday to Mauritius.

"I'm very proud to be representing the south Asian community, minority populations and Derby," she said.

Last month, the Miss England 2019 pageant hit the headlines as one of the first to launch a new make-up free round, with the winner of the 'bare face top model' contest being fast-tracked to the final round of 20 women vying for the overall title.

As part of their entries, the women had to wear no make-up and also had to post the photo on social media with the message to celebrate natural beauty.