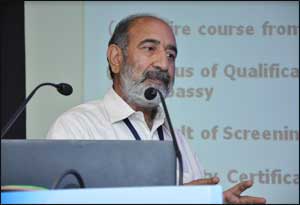 New Delhi: In a landslide victory, Dr Girish Tyagi, registrar of Delhi Medical Council  (DMC) has been elected as the Delhi Medical Association (DMA) President, (2018-19)
Dr Tyagi defeated Dr. Rajiv Sood, Dean PGIMER, (RML hospital) and a member, MCI with the margin of 1100 votes in the annual election of DMA last week.
A Passout of UCMS, Dr Tyagi has held to post of Secretary DMA twice in the past and has been DMC register for the past decade
Speaking on the occasion, Dr Tyagi told Medical Dialogues team, " Profession is passing through difficult times there seems to be growing lack of faith in the doctor-patient relationship. The Council and the Association will work in harmony to strengthen this relationship and enhance their faith in each other."
Along with Dr Tyagi, Dr BB Wadhwa from East Delhi has been elected as senior vice-president and Dr Rajesh Makashir of south Delhi branch has been elected as vice-president of DMA for 2018-19.
0 comment(s) on Dr Girish Tyagi elected President of Delhi Medical Association