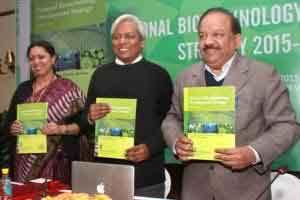 The National Biotechnology Development Strategy 2015-20 was unveiled by the Hon'ble Minister for Science & Technology and Earth Sciences, Dr. Harsh Vardhan, and the Hon'ble Minister of State for Science & Technology and Earth Sciences, Shri. Y S Chowdary, in the presence of the Secretary, Department of Biotechnology, Dr. Vijay Raghavan and other key stakeholders.
The National Biotechnology Development Strategy 2015-20 aims to establish India as a world-class bio-manufacturing hub. It intends to launch a major mission, backed with significant investments, for the creation of new biotech products, create a strong infrastructure for R&D and commercialization, and empower India's human resources scientifically and technologically.
Dr. Harsh Vardhan, Minister for Science & Technology and Earth Sciences said, "The Department of Biotechnology is going to complete 30 years soon. It has done commendable work over the years in catalyzing the growth of the biotechnology industry, which has a huge potential to positively impact the lives of Indians in every area, such as research, education, health, technology, and energy. This was sensed a long time ago by the Government. When Shri Atal Bihari Vajpayee was the Prime Ministr, he used to say that while IT (information technology) stands for 'India Today,' BT (biotechnology) stands for 'Bharat Tomorrow.' I believe this industry has the potential to grow like the IT industry over the next ten years and beyond. The development of the inexpensive rotavirus vaccine, available for less than a dollar in India when internationally it costs 50 dollars, is an example of what can be achieved by the Indian biotechnology industry. Several other vaccines, such as for dengue and malaria, are already under development. The growth prospects of the Indian biotechnology industry are bright provided it receives the right stimulus and an enabling environment."
The Secretary, Department of Biotechnology, Dr Vijay Raghavan said, "India stands at an extraordinary position in science and technology. Our challenge is to build on this foundation to see how to take the country further. Biotechnology has an important part to play in India's growth story and there is enthusiastic support from the Government for this vision. We have drafted a very ambitious strategy with the target to turn biotechnology into a US $100 billion industry by 2025. I believe this is not impossible to achieve. Several growth opportunity exists. For example, many low-end products can be successfully manufactured in India. Our challenge is to stimulate the industry players to make them partner internationally in developing these products at the fraction of the cost of what is possible outside India, and then sell them nationally as well as globally. A huge opportunity exists in the manufacture of diagnostic kits too."
The key elements of the National Biotechnology Development Strategy 2015-20 include the following:
Build skilled workforce and leadership
Revitalize the knowledge environment at par with the growing bio-economy
Enhance research opportunities in basic, disciplinary and inter-disciplinary sciences
Encourage use-inspired discovery research
A focus on biotechnology tools for inclusive development
Nurture innovation, translational capacity and entrepreneurship
Ensure a transparent, efficient and globally best regulatory system and communications strategy
Foster global and national alliances
Strengthen institutional capacity with redesigned governance s
Create a matrix of measurement of processes as well as outcomes
These key elements would be implemented in collaboration and partnership with other ministries, departments, state governments and international agencies. The objective is to make India ready to meet the challenge of turning biotechnology into a US$100 billion industry by 2025.
The National Biotechnology Development Strategy 2015-20 intends to:
Launch four major missions in healthcare, food and nutrition, clean energy and education
Create a technology development and translation network across India with global partnership, including 5 new clusters, 40 biotech incubators, 150 TTOs, and 20 bio-connect centres
Ensure strategic and focused investment in building human capital by setting up a Life Sciences and Biotechnology Education Council 
0 comment(s) on Dr Harsh Vardhan Unveils National Biotechnology Development Strategy 2015-2020