Great loss: Renowned Orthopedician dies after being run over by speeding bus on highway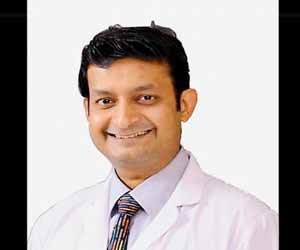 Pune: The medical fraternity suffered a great loss after prominent orthopedician and spine surgeon Dr Ketan Khurjekar was run over by a speeding luxury bus on the Mumbai-Pune Expressway near here in Maharashtra.
The doctor along with two other colleagues was returning to Pune from a medical conference in Mumbai along with their driver. Around 10.30 pm, Dr Khurjekar had got down on the road to help his cab driver to replace one of its punctured tyre near Somatane village. While the cab driver was changing the damaged tyre, a private bus coming on that side hit them from behind, the official said. Dr Khurjekar and the cab driver, Dnyaneshwar Bhosale(27), died on the spot, he said.
His two other colleagues, who were accompanying the doctor in the ride were also gravely injured in the accident. The other two doctors received injuries and were admitted to Sancheti Hospital for treatment, he added.
"As per our primary information, the car had halted on the roadside after a puncture in one of the tyres. While the tyre was being changed, a speeding private bus came from behind and hit them. Dr Khurjekar and the driver were killed and two other doctors have sustained serious injuries. The driver of the bus fled after the accident, we have launched a search for him," police informed media persons
Dr Khurjekar, an MS Orthopaedics gold medalist, was head of the department for spine surgery at the Sancheti Hospital. He  started minimal invasive spine surgery at Sancheti Hospital which has given faster healing and full activity of life to hundreds of patients
Clinician and Surgeon. Dr Khurjekar performed more than 7500 Spine Surgeries which includes Microscopic Spine surgeries, Cervical spine surgeries and Spinal deformity corrections. His mantra, reflected by his team stated "Success of Any Treatment is Accurate Diagnosis'
Read Also: Unfortunate: PIMS MBBS doctor killed in Vehicle Collision