Dr Rajeev Sood, Dean PGIMER- RML Hospital conferred with Dr BC Roy Award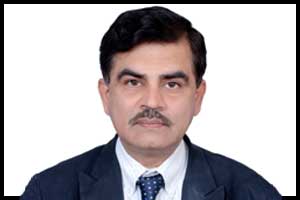 New Delhi: The Dean at Postgraduate Institute of Medical Education and Research (PGIMER)- Ram Manohar Lohia (RML) Hospital, Dr Rajeev Sood has been conferred with the  prestigious Dr BC Roy Award for the year 2017 by the Medical Council of India (MCI).
His contributions to the medical field has been recognized under the category of "the best talents in encouraging the development of specialties in different branches of medicine".
Dr Sood completed his MBBS from Maulana Azad Medical College, MS (General Surgery) from Dr RML Hospital and PGIMER and MCh in Urology from AIIMS. A master specialist in the field of Urology, he was instrumental in the creation of the Department at RML Hospital and has been heading its Urological Services since inception in 1996. He is currently serving as the DEAN, PGI MER, Dr Ram Manohar Lohia  Hospital, New Delhi
Besides being involved extensively in medical education and training of future Urology Specialists, Dr Rajeev Sood is a Consultant Urologist at the Indian Parliament, a Nominated Honourary Urologist to the Hon'ble President of India, Chairman of  Indian School of Urology (ISU-USI) and Chairman of Tumor-Board and Cancer-Registry,  and Sex – Reassignment Board, PGIMER and RML Hospital.
Dr Sood also holds the charge of Nodal Cancer Officer at Dr RML Hospital, Central Health Service (Govt. of India) and Delhi Cancer Registry. In the past and present, he has held number of important academic positions including being the former Chairman of the Technical Equivalence Committee (TEQ) of MCI,  an Elected Member for Medical Universities as well as a Nominated Member in the 'Migration Committee' of the Medical council of India
He has also been at the helm of many important medical associations in the past including being the former president of Urology Society of India and former vice president of the Delhi Medical Association.
This is not the first accolade coming his way. In the past decades, he has been conferred with various distinguished awards including 'Rashtriya Rattan Award-2006', 'Medical Teaching Excellence Award'  in the field of 'Urology' and 'Oncology', 'Gem of India Award-2005'and Urological Society of India (USI) Award for contribution in establishing 'Central Head-Quarter USI'.
Dr BC Roy Award,  the highest medical honour of India, instituted by the Medical Council of India in 1962, will be given away by President Ram Nath Kovind on July 1 next year, the National Doctors Day.
Congratulate Dr Sood in the comments section below
Read Also: 3 Lucknow Doctors conferred with Dr BC Roy Award, Yogi Adityanath Congratulates them