Dr Ramesh Bhat takes charge as Nationa IADVL President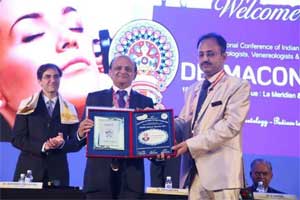 Mangaluru: Dr Ramesh Bhat M, professor of dermatology, Father Muller Medical College, took over as the national president of Indian Association of Dermatologists, Venereologists and Leprologists (IADVL) during the recently held 46th national conference DERMACON at Kochi, Kerala.
IADVL is the second biggest dermatology specialists body in the world after USA. He took over as the president from Dr Yogesh Marfatia of Vadodara, Gujarat. Dr Umashankar of Bengaluru and Dr Shashikumar of Mandya took over as secretary and treasurer respectively. Dr Mukesh Girdhar of Delhi and Dr Jagadish Sakhia of Surat took over as Vice presidents wile Dr Dinesh of Chennai and Dr Prashanth of Aurangabad took over as joint secretaries.
Prof Giovanni Pellaccani, chairman, World Congress of Dermatology, Milan, Italy was the chief guest at the occasion.
In his presidential address Dr Ramesh Bhat thanked the members for electing him as president of the association by a huge margin. He emphasized the need for community awareness on fungal infections and misuse of topical steroids as fairness creams. He requested the government to ban fixed drug combination creams containing potent steroids like clobetasol propionate. He also requested the Medical Council of India (MCI) to reduce the number of beds to 15 per unit as skin is considered as a daycare speciality. He also requested the insurance companies to provide health insurance facilities for skin admissions, vitiligo surgeries and biologic therapies.
The conference was attended by more than 7,000 delegates from all over India and other 24 countries.