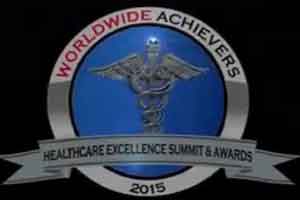 Mumbai: At the Healthcare Excellence Summit 2015, organized by Worldwide Achievers, Dr. Rinky Kapoor, cosmetic dermatologist and laser skin expert from The Esthetic Clinics was named the"Best Dermatologist in India" for the year 2015. Esteemed guests, Shri Shripad Yesso Naik, Honorable Union Minister of Health & Family Welfare (Govt. of India), and Dr. C. P. Thakur, MP & Former Union Cabinet Minister (Govt. of India) presented this award, in appreciation for Dr. Kapoor's excellence in healthcare delivery. The event was organized at Hotel Radisson Blu Plaza, New Delhi.
Dr. Rinky Kapoor spearheads the Department of Cosmetic Dermatology at the Institute of Aesthetic Surgery at the Esthetic clinics, Mumbai, and is a consultant with the Department of Cosmetic Dermatology at the SL Raheja hospital, which part of the Fortis group. She is extremely well-known across India, for her authority in the area of cosmetic dermatology.
Dr. Kapoor cofounded the Esthetic Clinic in 2009, offering cutting-edge solutions across fractional laser treatment, pigment and vascular lasers, non-surgical body contouring, non-surgical skin rejuvenation, and non-surgical facelift. She is also the co-inventor and patent holder for the identification and extraction of a nano-molecule QR 678 that helps with hair regrowth.
Dr. Kapoor has been involved in key positions in research, around 'growth factors of hair regeneration' with Indian Institute of Technology (IIT). In her capacity as one of the top-notch cosmetic dermatologists in the country, she has been nominated as a consultant Cosmetic Dermatologist for the Femina Miss India 2009 finalists and the official skin care expert for Dance India Dance of Zee Television in 2009. She has also contributed as a thought leader in the space, to national publications and magazines such as the Times of India and Deccan Chronicle, Prevention, My World and B Positive.
The Healthcare Excellence Summit 2015 by Worldwide Achievers felicitates organizations and individuals for their innovations improving efficiency and performance of healthcare delivery at large. This award recognized Dr. Kapoor's matchless contribution to the industry and felicitated her amongst industry experts and guests representing leading healthcare companies, pharmaceutical companies, insurance agencies, consultants and the government of India.
0 comment(s) on Mumbai: Dr Rinky Kapoor Named Best Dermatologist in India