Gujarat: Dr Rohit V Bhatt nominated for DR BC Roy Award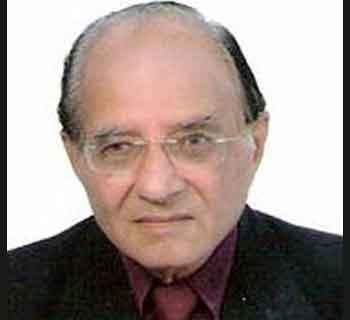 "Never loose Hopes. Work hard to achieve your ambition. There may be delay in recognition but you will succeed  in the long run"
  This was the message that Dr Rohit V Bhatt wanted to pass on to young doctors and budding medical aspirants of the country. Dr Rohit V Bhatt, Chief of Department of Obstetrics and Gynecology, BD Amin General Hospital, Baroda has been conferred with the prestigious Dr  BC Roy Award in the category of Eminent Medical Teacher this year.
Dr Bhatt completed his MBBS from University of Bombay in year 1955, followed by DCH from College of Physicians & Surgeons in year 1957, MD from University of Bombay in year 1958. Thereafter he pursued numerous degrees in the field of gynecology including FAMS  from National Academy of Medical Sciences  in year 1981, FICOG  from  Indian College of Obstetrics and Gynecology in the year 1985 and FICMCH from  Indian College of MCH in year 1992
Since then, Dr Bhatt has taken up numerous positions as a medical educationist, imparting his knowledge and skills to numerous medical students. He has contributed several years of his life in teaching profession as Visiting Professor in many different colleges as, RNT Medical College, Udaipur, Rajasthan; PGI Chandigarh; Nowrosjee Wadia Maternity Hospital, Mumbai; Jammu Medical College, Jammu; Government Medical College, Thiruvananthapuram. Before joining BD Amin General hospital, He was the Professor & Head of Department, Obstetrics and Gynecology at Medical College, Baroda between 1963-1984. He has also delivered numerous guest lectures in the country and abroad
Dr RV Bhatt has written more than 170 publications in National and International Journals of repute. He has also served in various capacisties in various national and international organisations of gynecology.
In the past, Dr V Bhatt has been nominated for several of prestigious awards including the  Life Time Achievement Award by Harvard Medical School in 2010 for outstanding contribution to women health,  Life Time Achievement Award by Federation of Obstetricians and Gynecologists of India (FOGSI) for contribution to women health and Federation Activities & National Association of Reproductive and Child health (NARCHI)