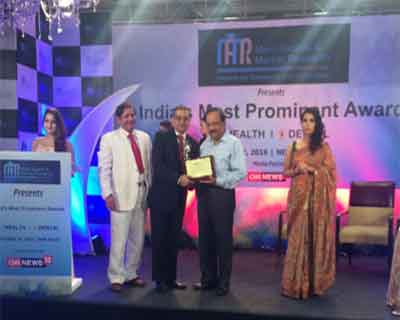 New Delhi: Dr. Sanjay Gupta, Associate Director, Department of Orthopedics & Joint Replacement, Jaypee Hospital gets a prestigious award for being the Best Joint Replacement Surgeon in a recently held 'Health & Dental awards' by Merit Awards & Market Research. The award was presented to him by Hon'ble Minister Dr. Harsh vardhan, Minister of Science & Technology and Earth Sciences.
Speaking on the occasion, Dr. Sanjay Gupta, Jaypee Hospital said, "It's a very proud moment for me that I have been awarded as the Best Joint Replacement Surgeon. Being a doctor it is our responsibility to serve the society and when these efforts are being recognized by industry experts and you are being honoured for your work it feels great. I also congratulate other fellow doctors who have been awarded for their phenomenal work in this sector."
Dr. Gupta holds a degree in MS (Orthopaedics) and MCh (Orthopaedics & Joint Replacement) from University of Liverpool, UK. He is associated with Jaypee Hospital since its inception in 2014.
He has special interests in knee arthroplasty, complex primary and revision TKR, arthroscopic ligament reconstruction and sports medicine. In his 15 years of surgical career he has performed over 5000 knee replacement surgeries. In addition to conventional knee replacement, he is an expert in performing partial knee replacement and minimally invasive knee replacement.
1 comment(s) on Dr. Sanjay Gupta of Jaypee Hospital awarded as Best Joint Replacement Surgeon