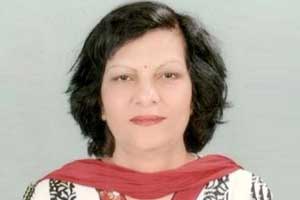 Dehradun: Dr Sona Kaushal Gupta, neuro-psychologist and a medical faculty at Doon Medical College, Dehradun has been honoured with the prestigious Dr B.C Roy Award. Dr Gupta will be recieve the award in the category of " to recognise the outstanding contribution in the field of medical education and social medical relief"  for the year 2017.
She is noted for her contribution to the field of Psychological Assistance and Rehabilitation In children, through her NGO PARI foundation.
Dr Sona Kaushal Gupta is an MBBS  alumnus of the prestigious King George's Medical College, Lucknow.  Thereafter, she post-graduation in Pathology and later in Medical Biochemistry. She did her PhD from Chaudhary Charan Singh University Meerut. Keenly interested in the field of psychology, she then took special training in Counseling and Psychotherapy from Mumbai.
................................ Advertisement ................................
Backed with her training she then dedicated her efforts to bringing medical relief and improvement in the lives of the children who are victims of stress, drug abuse and sexual abuse.
Her foundation, PARI FOUNDATION addresses the problem of Stress and Drug Abuse in children and adolescents and empowers them to Cope adaptively and Prevent Substance Abuse. She has counselled numerous students, parents, youth, couples and the Senior Citizens and empowered them to be resilient, Stress-free and happy. She also took training in Counseling of the Child Sexual Abuse victims and the POCSO Act regulation, under CSA project of UNICEF and IMA Delhi.
................................ Advertisement ................................
 Dr Sona is the  CBSE Board designated counsellor for tele-counselling of students and their parents who face stress and anxiety before, during and after their Board examinations. She has counselled numerous students about Exam Stress and Academic Pressures in this endeavour.
Her NGO started a Helpline for students and parents in distress when the Uttarakhand Disaster took place and when the Blue Whale Challenge online game was at its peak and counselled numerous survivors of the tragedy and children and their parents about how to be safe and save their children from this game.
She has received various International and National Awards including "REEA Awards" for Research and Development. Mahil Samman Award, Hindustan Award for Counseling Policemen in Meerut
Speaking to Medical Dialogues, Dr Sona Kaushal Gupta stated that her main focus was on the protection of those students who are taking drugs due to peer pressure and to combat drug menace through skilled tactic in daily lifestyle in those who have become victims to the menace.
"It's unfortunate but as high as 50 per cent of students in the state now encounter the made of drug addiction. Through our foundation, we provide them with awareness and interaction so as to empower them to get out of drug menace and say no to drugs."
She added that social stress and peer pressure are one of the main reason for stress.
Medical Dialogues Bureau consists of a team of passionate medical/scientific writers, led by doctors and healthcare researchers.  Our team efforts to bring you updated and timely news about the important happenings of the medical and healthcare sector. Our editorial team can be reached at editorial@medicaldialogues.in. Check out more about our bureau/team here
................................ Advertisement ................................
8 comment(s) on Dr Sona Kaushal Gupta conferred with prestigious Dr BC Roy Award