Drug abuse needs to be curbed: Himachal CM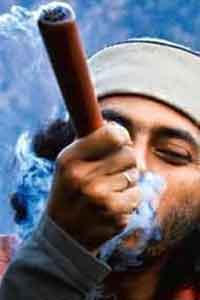 Manali, June 11 (IANS) Drug abuse is corroding the foundations of society and leading to child abuse as well as sexual and domestic violence, Himachal Pradesh Chief Minister Virbhadra Singh said on Thursday.
Singh made the observation in his inaugural address at a three-day judicial conference on drug menace organised by the State Legal Services Authority here.
"Illicit drug business attracts criminal organisations because of huge profits it generates," he said.
Referring to Malana, some 100 km from here and known for cultivating 'Malana Cream', a prized hashish that was a purified resinous extract of cannabis in the West, Singh said: "The government is committed to make Malana drug free."
He urged the judiciary to decide the cases of masterminds of drug business expeditiously.
Police officials told IANS that the inaccessible valleys and lofty mountains in the western Himalayas were happy hunting ground for the cultivation of cannabis and opium. They are the country's biggest drug-producing areas with a considerable quantity finding its way to Europe.
An official said the lure of drugs and quick bucks also attracts foreigners to the largely unexplored areas of Himachal Pradesh where they have become part of unorganised drug cultivation.
Police records show that there were 50,000 acres of cannabis under cultivation in Kullu Valley alone.
In the past five years, 70 foreigners, mainly Britons, Israelis, Dutch, Germans, Japanese and Italians, have been arrested under the Narcotic Drugs and Psychotropic Substances (NDPS) Act.
The chief minister admitted that cannabis was widely cultivated in many states, including Himachal Pradesh, and this needs to be curbed by enforcing strict laws.
Addressing the gathering, Justice T.S. Thakur of the Supreme Court said 4,366 cases were registered in the state under the NDPS Act till May 31, 871 cases alone in Kullu district.
"Drug problem is a serious issue. Sixty-seven percent of population in Punjab is addicted to drug abuse, which is not good for a state which is known for its valour," he said.
Himachal Pradesh High Court Chief Justice Mansoor Ahmed Mir raised concerns over the increasing rate of druggists in the country, said to be around five million.
He said the drug business had a turnover of around $500 billion and was the third largest business next to petroleum and arms trade.
Union Health Minister J.P. Nadda said some 7.3 crore people in India were used to drug abuse and 70 percent of them had become heavy addicts.