Drunk Doctor C-Section: NHRC notice to Gujarat over death of mother, child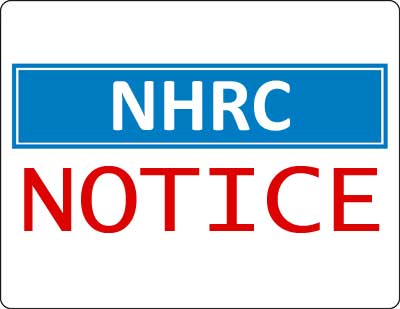 New Delhi: The National Human Rights Commission, NHRC has taken suo motu cognizance of media reports that a drunken doctor performed a C-section of a woman in an advanced stage of pregnancy leading to the death of both the mother and her child at Government-run Sonawala hospital in Botad, Gujarat on the 26th November 2018.
The Commission has observed that the incident, if true, amounts to gross violation of human rights of the victims. Accordingly, it has issued notices to the Chief Secretary and Director General of Police, Government of Gujarat calling for a detailed report in the matter as well as the status of the criminal case registered against the concerned doctor within four weeks.
The Commission has also observed that doctors are always expected to maintain high standards of professionalism and devotion to duty but in the instant case, it appears that the concerned doctor had shown carelessness and criminal negligence by performing a C-section of a woman in an inebriated condition.
Medical Dialogues team had earlier reported that on the 28th November 2018, A government doctor had been arrested for allegedly performing caesarian in an intoxicated state leading to the death of a mother and newborn baby. With Gujarat being a dry state, the doctor is likely to face charges both under the Prohibition Act as well as relevant provisions of the IPC relating to negligence.
The matter concerns 22-year old pregnant woman from Alampar village of Gadhda taluka who was admitted to Botad's government-run Sonawala Hospital when she started feeling labour pain. The case was handled by Dr Paresh Lakhani who performed the 
caesarian
 operation on the pregnant lady.  Few hours after the operation, the patient started bleeding profusely and the newborn was declared dead. The family members decided to shift the lady to a private gynaecologist, but she died on the way.
The family went to Dr Lakhani and found that he was drunk and had performed the operation in an intoxicated state. They immediately informed the police regarding the matter accusing him of medical negligence.
Read Also: Gujarat: Drunk Doctor performs Caesarian, arrested after patient, newborn die