E-ICUs: Future of critical care delivery?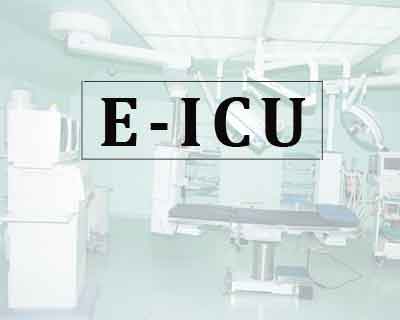 Lack of expertise in handling ICU patients  and shortage of specialized doctors in smaller towns has led to the introduction of the concept of eICU's in the country. eICU is a technology whereby a metropolis specialist can put an ICU patient on a 24 hour electronic intensive care surveillance.

The eICU technology initiative helps in a constant flow of information of vital facts such as pulse rate, temperature, heartbeat, breath flow apart from a connected monitor, ventilator and audio visual technology that helps raise alarms, conduct surgeries, medical treatments or emergency procedures.

New avenues of clinical practice are opening up for top private hospitals through this technology of taking on small town patients in critical conditions. A doctor sitting in a metropolitan can monitor a patient in a remote district or semi urban town across the count through this medical initiative.

Hospitals like Apollo and Fortis are already onto it . Apollo Healthcare has put 100 beds on eICU surveillance across the country and plans to raise this number to a 1000 in the near future. These beds would be monitored from three or four command bases at Apollo Hospitals, all across India in the coming three years. Fortis has gone a step ahead by kicking of  remote monitoring of patients in the EICU category in Bangladesh. This being its first 'across the border ' facility as reported by HT.

Average claimed occupancy of both Apollo and Fortis beds runs to 85% on eICU beds. According to Pankaj Gautam, Head eACCESS initiative of Apollo Hospitals, there are 70,000 ICU beds available across India, catering to 5 million patients in need of ICU care every year.

The eICU waive seems to be catching on with the smaller hospitals in the metros as well. Describing it as the state of the Art Technology Pinky Yadav, Medical Superintendent at Delhi based Sri Balaji Action Medical Institute finds it applicable in Tier 3 and Tier 4 towns, due to non availability of  super specialists. Ms.Yadav further stated, that  being a new dimension in the healthcare industry, it had arisen their interest as well. In terms of revenue the technology might not be as profitable, keeping in mind that it reduces ICU stay durations, thereby balancing the costs of treatment. As per Indian medical journals, eICUs have reduced the average length of stay in ICU by 1.02 days and has prevented 114 adverse clinical events in a year

Hospitals charge between Rs 700 and Rs 2000 a day to virtually monitor a patient from their eICUs, with revenues shared between hospitals and companies such as General Electric, Siemens and Philips that have developed the tracking technology.