Efforts to prevent neonatal deaths must pick up: UNICEF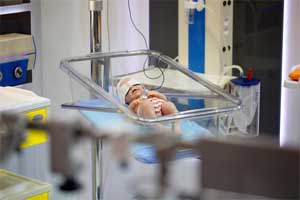 New Delhi: UNICEF India, as part of its global campaign, 'Every Child ALIVE', sought today acceleration of efforts to eliminate preventable neonatal deaths -- when a baby dies in the first 28 days of life -- by 2030, with a focus on the girl child.
'EveryChildALIVE' is UNICEF's global signature campaign to demand and deliver affordable, quality healthcare solutions for every mother and newborn.
Given that India contributes to nearly one fifth of the global burden of under-five age group deaths and around a quarter of the global burden of neonatal deaths, this campaign focuses on creating an in-depth discourse around the issues, a statement by UNICEF stated.
UNICEF's officiating Chief of Health, Dr Gagan Gupta said that India has shown good and consistent progress in reduction of child mortality, with nearly 1,20,000 fewer under five deaths in 2016 as compared to 2015.
"However more efforts are needed for reducing neonatal deaths and addressing the gender gap in child survival. Simple interventions like ensuring every newborn is breast fed within the first hour of life can reduce neonatal deaths by 22 percent," said Gupta.
"Government is doing its part, but it is also our collective responsibility to ensure every child gets the best start in life, truly leaving no one behind, he said.
UNICEF India Deputy Representative, Henriette Ahrens said the government was making efforts and investments towards Universal Health Coverage and it was well reflected under the 'Aayushmaan Bharat' scheme.
The government aims at covering 10 crore poor and vulnerable families and provide a cover of Rs 5 lakh per family per year for secondary and tertiary care hospitalisation under the scheme.
"I also salute the team of skilled health workers, who are committed to support every mother and baby with a safe pair of hands," said Ahrens.
UNICEF Celebrity Advocate Kareena Kapoor Khan said quality healthcare must be assured for every mother and baby
"When I was pregnant, access to quality healthcare and good doctors and nurses was a given. But, this should not just be a privilege for some... Every mother and every baby has the right to be supported by a safe pair of hands during pregnancy and the newborn period," she said.
Kapoor also highlighted the need for gender equity and quality, which she said are the next frontiers for newborn survival.