Frailty, A vital Index to Predict Postoperative Complications After Skull Base Surgery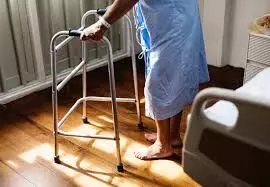 Frailty has emerged as a powerful risk stratification tool across surgical specialities. Recent research suggests, frailty as a potential predictor of postoperative complication following skull-base surgery. The research has been published in The Laryngoscope on March 01, 2021.

Head and neck cancer (HNC) represents worldwide an important population burden, with annually more than 550 000 new cases and 380 000 deaths. Frailty was defined as a clinical syndrome in which three or more of the following criteria were present: unintentional weight loss (10 lbs in the past year), self-reported exhaustion, weakness (grip strength), slow walking speed, and low physical activity. The overall prevalence of frailty in this community-dwelling population was 6.9%; it increased with age and was greater in women than men. However, an analysis of the impact of frailty on outcomes following skull base surgery has not been published. Therefore, researchers of the Rutgers Robert Wood Johnson Medical School, USA, conducted a study to assess the validity of the 5‐factor modified frailty index (mFI‐5) as a predictor of perioperative morbidity and mortality in patients undergoing skull base surgery.
Researchers calculated the mFI‐5 score for 17,912 patients undergoing skull base surgeries using the National Surgical Quality Improvement Program (NSQIP) database from 2005 to 2018. They used multivariate logistic regression analysis to evaluate the association of increasing frailty with complications in the 30‐day postoperative period, with a subanalysis by operative location.
Key findings of the study were:
• Among 17,912 patients they noted that 45.5% of patients had a frailty score of one or greater.
• Upon multivariable regression analysis, they found frailty to be an independent predictor of overall complications (odds ratio [OR]: 1.325), life‐threatening complications (OR: 1.428), and mortality (OR: 1.453). Higher frailty also correlated with increased length of stay.
• When procedures were stratified by operative location, they observed that frailty correlated significantly with overall complications for middle, posterior, and multiple‐fossae operations but not the anterior fossa.
The authors concluded, "Frailty demonstrates a significant and stepwise association with life‐threatening postoperative morbidity, mortality, and length of stay following skull base surgeries. mFI‐5 is an objective and easily calculable measure of preoperative risk, which may facilitate perioperative planning and counselling regarding outcomes prior to surgery."
For further information:
https://onlinelibrary.wiley.com/doi/10.1002/lary.29485
Article Source :
The Laryngoscope