Air Pollution and Allergic Rhinitis-Interactions, Effects, and Intervention Needs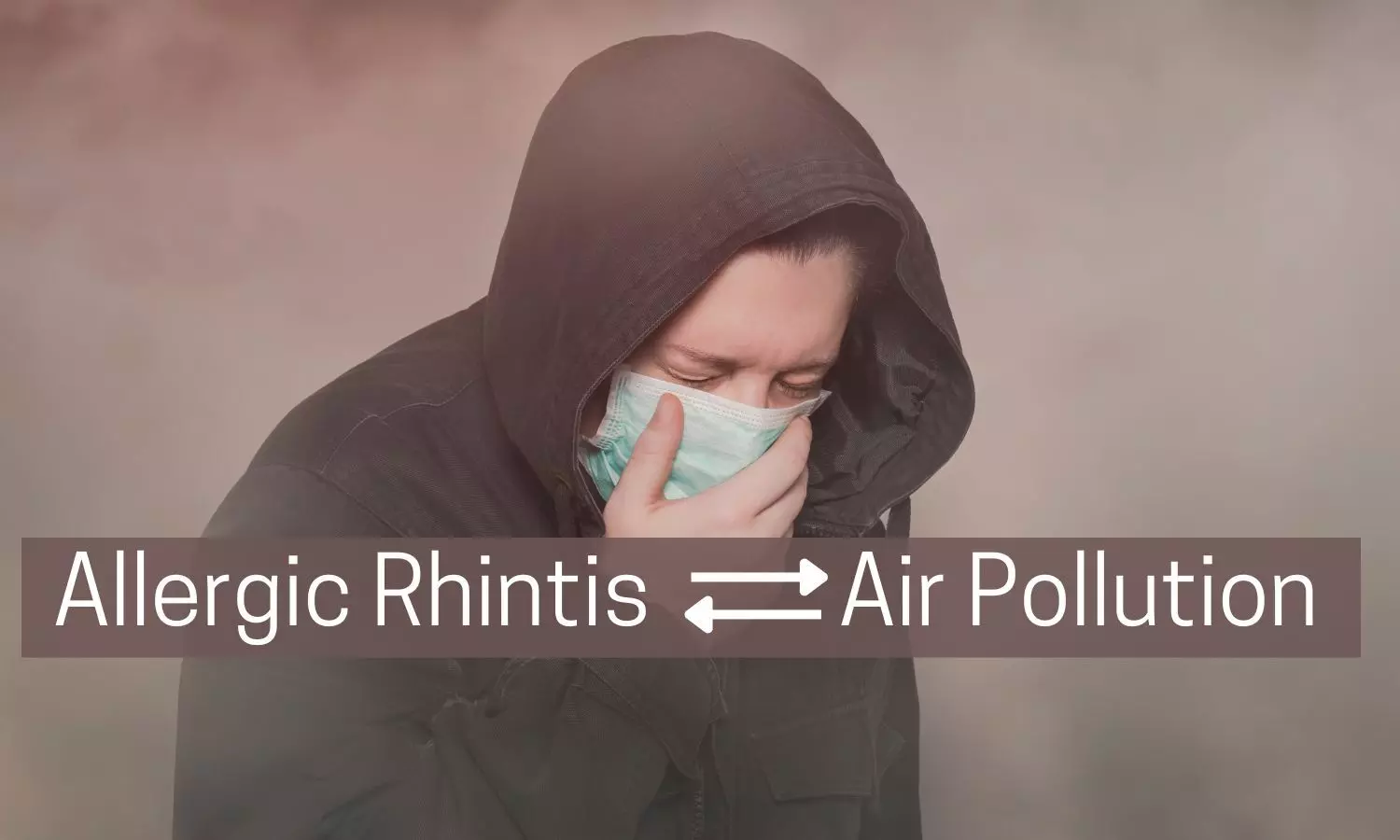 Allergic rhinitis (AR) is an IgE-mediated type 1 hypersensitivity illness. It is aggravated by environmental allergens such as pollen (primarily from the outdoors) and arthropod- or mammalian-derived allergens (primarily from the indoors), such as dust mites, cockroaches, cat allergens,or mold. (1) There has been a growing interest in the relationship between the development of allergic respiratory diseases and air pollution, given the rise in the incidence of the condition over the past decades. This holds even greater relevance in metropolitan settings with high levels of air pollution, where the management of allergic rhinitis poses a challenge to physicians. By 2050, 68% of the world's population will reside in urban areas, adding to the rising AR concerns. (2)

This article reviews the existing knowledge of the impact of air pollution on the aggravation of AR symptoms while summarising the current therapeutics for AR management.
Allergic rhinitis and Air pollution: Global and Indian Epidemiology-
With estimates revealing that up to 30% of adults and 40% of children are affected by AR, the disease has emerged as the most common atopic disease in certain countries. (2) Recent research indicates that nearly 77% of the Indian population is exposed to particulate matter (PM25) levels that exceed the 40 g/m3 threshold set by National Air Quality Standards in India. Alarmingly, ambient PM25 exposure is linked to asthma exacerbations, cardiovascular events, and premature deaths, as well as 26.2% of global disability-adjusted life years. (3) Over the years, a significant environmental contribution to the prevalence of the allergic disease has been recognized, with exposure to air pollution contents, namely gaseous compounds such as NO2, NO, SO2, CO, and CO2, and airborne particulate matter (PM) from traffic diesel exhaust particles, affecting AR development and symptom exacerbation (2)
Impact of chronic exposure to air pollution on the respiratory system: Dissecting the Link:
Pollutants (environmental and occupational) irritate the nasal mucosa, releasing inflammatory mediators and increasing nasal hyperreactivity, which coincides with the symptoms of atopic illnesses such as AR. Air pollution can affect the visual system, too, leading to common symptoms of tearing, redness, and blurred vision. Repeated exposures can lead to chronic tissue inflammation, as occurs during seasonal transitions (1) Environmental pollution can trigger rhinitis via a neurogenic mechanism too. This is mediated by a local axon reflex, a central autonomic reflex, mast cell degranulation, or epithelial cell activation. This irritates the upper and lower airway, resulting in acute rhinorrhea, nasal blockage, sneezing, coughing, and laryngospasm. (1)
Studies along these lines have highlighted that the risk of developing AR is linked to the timing of (pre-natal and early childhood) air pollution exposures. (1)
Prenatal Exposure& Association of Lifetime Allergic Rhinitis -Deng et al. (2016) examined exposure to air pollution during pregnancy to determine the risk of childhood atopic disorders. The study, which included 2598 preschool children, discovered that maternal NO2 exposure during the third semester was linked to the lifetime prevalence of allergic rhinitis in children. (4)
Post-natal Exposure & Clinical Spectrum of Allergic Rhinitis

-Postnatal exposure to NO2 and PM10, according to Norbäck et al. (4), is related to a higher prevalence and poorer remission of juvenile allergy rhinitis. Notably, a comparative epidemiological trial by the same author later confirmed that PM10 exposure synergistically increases risk factors for infant allergic rhinitis. (5)

Early Childhood Exposure

- In preschool children, AR prevalence was shown to be strongly and positively linked with age-related accumulative PM10, SO2, and NO2 exposure. (6)
Managing Allergic Rhinitis Exacerbated by Air Pollution: A look into Current therapies
While avoiding outdoor pollutants and allergens is the first step in alleviating AR, drug therapies including nasal corticosteroids, nasal decongestants, cromolyn, H1 antihistamines, leukotriene receptor antagonists, and allergen immunotherapy-form the pillars of current AR pharmacotherapy. (2)
Among these, a unique combination of an intranasal corticosteroid (INCS) and an intranasal antihistamine (INAH) has exhibited significant promise in controlling AR successfully. (7)
Fluticasone furoate and Azelastine in AR: A novel and unique therapy-
Research reveals that a breakthrough INCS/INAH combination - Azelastine, and Fluticasone furoate, outperforms Fluticasone propionate sprays with regard to clinical efficacy and practical advantages. (7,8)
Fluticasone furoate- Stand Out Advantages:
Faster Onset of Action: Fluticasone furoate is an enhanced-affinity glucocorticoid designed as an aqueous solution for treating AR symptoms utilizing a novel side-actuated nasal spray method. This leads to a faster onset of action when compared to other INCS. (7,8)
Better Patient Tolerance & Acceptance:

Fluticasone furoate was designed to decrease odor and nasal discomfort associated with nasal sprays. This offers it an advantage over the standard fluticasone propionate formulation, which has a strong aftertaste. This unique sensory attribute, in turn, increases patient compliance drastically. (9)

Wider Pediatric Age

-Group Use Window: Overcoming a significant limitation of other nasal INCS sprays indicated in children above four years only (10), studies confirm that FF nasal spray administered once daily for two weeks is well tolerated and effective for treating seasonal AR symptoms in children aged 2–11yr. (11)

Additional Benefit of Ocular Symptom Relief:

Fluticasone furoate effectively controls ocular symptoms in AR patients by inhibiting cellular inflammation and priming the nasal-ocular reflex. (12)
Azelastine&Fluticasone furoate- Combination therapy for Beneficial Synergy
Studies show that patients benefit from the synergistic effects of individual drug classes acting together, and two agents, when provided in a single device, enhance adherence to therapy.
Furthermore, a single spray application has been associated with more uniform dispersion and increased nasal cavity retention compared to separate and subsequent sprays.
The International Consensus Statement on Allergy and Rhinology

and

the American Academy of Otolaryngology-Head

and

Neck Surgery Foundation Clinical Practice Guideline for Allergic Rhinitis

both recommend the first-line treatment of intranasal steroid spray and suggest clinicians may offer combination therapy in patients with persistent symptoms. (13)

Intranasal fluticasone and azelastine combination therapy for allergic rhinitis has been shown to be more effective, according to a systematic review. The review identified 8 existing scientific papers to determine the efficacy of the two combinations in treating allergic rhinitis. The total nasal symptoms score showed an additional decline in patient-reported symptom scores in the combination therapy group compared to placebo (mean change from baseline: -2.41; 95% confidence interval [CI], -2.82 to -1.99; P < .001; I

²

= 60%), azelastine (mean change from baseline: -1.40; 95% CI, -1.82 to -0.98; P <.001; I

²

= 0%), and fluticasone (mean change from baseline: -0.74; 95% CI,-1.17 to -0.31; P <.001; I

²

= 12%). (13)

Recognizing the benefits of a combined nasal spray, the updated ARIA (Allergic Rhinitis and its Impact on Asthma)

recommendations advise on combined treatment with an INAH and an INCS in seasonal AR. (14)
Concluding Notes-
Treatment for allergic rhinitis worsened by air pollution generally consists of decreasing exposure to pollutants and drug therapies to alleviate AR-related symptoms.
Among the available pharmacotherapies, combining intranasal corticosteroid (INCS) and intranasal antihistamines(INAH) have exhibited substantial efficacy in controlling AR.
Major global guidelines now recommend combination therapy in AR patients with persistent symptoms.
Backed with ample evidence, Fluticasone furoate and Azelastine combined therapy has emerged as novel breakthrough therapeutics in managing AR, in adults and children.
Combination therapy with azelastine and fluticasone nasal spray has a more significant impact in relieving nasal symptoms than monotherapy with either agent alone.
References
1. Naclerio, R., Ansotegui, I. J., Bousquet, J., Canonica, G. W., Rosario, N., Pawankar, R., Peden, D., Bergmann, C., Bielory, L., Caraballo, L., Cecchi, L., Cepeda, A. M., Chong Neto, H. J., Galán, C., Gonzalez Diaz, S. N., Idriss, S., Popov, T., Ramon, G. D., Ridolo, E., . . . Rouadi, P. (2020). International expert consensus on the management of allergic rhinitis (AR) aggravated by air pollutants: Impact of air pollution on patients with AR: Current knowledge and future strategies. The World Allergy Organization Journal, 13(3). https://doi.org/10.1016/j.waojou.2020.100106
2. Li, C. H., Sayeau, K., & Ellis, A. K. (2020). Air pollution and allergic rhinitis: role in symptom exacerbation and strategies for management. Journal of Asthma and Allergy, 13, 285.
3. Krishna, M. T., Mahesh, P. A., Vedanthan, P. K., Mehta, V., Moitra, S., & Christopher, D. J. (2020). The burden of allergic diseases in the Indian subcontinent: barriers and challenges. The Lancet Global Health, 8(4), e478-e479.
4. Deng Q, Lu C, Li Y, Sundell J, Dan N. Exposure to outdoor air pollution during trimesters of pregnancy and childhood asthma, allergic rhinitis, and eczema. Environ Res. 2016;150:119–127. doi:10.1016/j.envres.2016.05.050
5. Norbäck D, Lu C, Zhang Y, et al. Sources of indoor particulate matter (PM) and outdoor air pollution in China in relation to asthma, wheeze, rhinitis, and eczema among pre-school children: synergistic effects between antibiotics use and PM10 and second-hand smoke. Environ Int. 2019;125:252–260. doi:10.1016/j. Envint.2019.01.036
6. Effects of ambient air pollution on allergic rhinitis among preschool children in Changsha, China | springerLink [Internet]. Available from: https://link.springer.com/article/10.1007%2Fs11434-013-5725- . Accessed August 14, 2020.
7. Fowler, J., Rotenberg, B.W. & Sowerby, L.J. The subtle nuances of intranasal corticosteroids. J of Otolaryngol - Head & Neck Surg 50, 18 (2021). https://doi.org/10.1186/s40463-020-00480-z
8. Kumar R, Kumar D, Parakh A. Fluticasone furoate: A new intranasal corticosteroid. J Postgrad Med [serial online] 2012 [cited 2022 May 13];58:79-83. Available from: https://www.jpgmonline.com/text.asp?2012/58/1/79/93260
9. Meltzer E, Andrews C, Journeay G, Lim J, Prillaman B, Garris C, et al. Comparison of patient preference for sensory attributes of fluticasone furoate or fluticasone propionate in adults with seasonal allergic rhinitis: A randomized, placebo-controlled, double-blind study. Ann Allergy Asthma Immunol 2010;104:331
10. Grossman J, Banov C, Bronsky EA, et al. Fluticasone propionate aqueous nasal spray is safe and effective for children with seasonal allergic rhinitis. Pediatrics. 1993;92(4):594-599.
11. Meltzer EO, Lee J, Tripathy I, Lim J, Ellsworth A, Philpot E. Efficacy and safety of once-daily fluticasone furoate nasal spray in children with seasonal allergic rhinitis treated for 2 wk. Pediatr Allergy Immunol. 2009;20(3):279-286. doi:10.1111/j.1399-3038.2008.00773.x
12. Baroody, F. M., Shenaq, D., DeTineo, M., Wang, J., &Naclerio, R. M. (2009). Fluticasone furoate nasal spray reduces the nasal-ocular reflex: A mechanism for the efficacy of topical steroids in controlling allergic eye symptoms. Journal of Allergy and Clinical Immunology, 123(6), 1342–1348. doi:10.1016/j.jaci.2009.03.015
13. Debbaneh, P. M., Bareiss, A. K., Wise, S. K., & McCoul, E. D. (2019). Intranasal azelastine and fluticasone as combination therapy for allergic rhinitis: systematic review and meta-analysis. Otolaryngology-Head and Neck Surgery, 161(3), 412-418.
14. Bousquet J, Schünemann HJ, Togias A, et al. Next-generation Allergic Rhinitis and Its Impact on Asthma (ARIA) guidelines for allergic rhinitis based on Grading of Recommendations Assessment, Development and Evaluation (GRADE) and real-world evidence [published correction appears in J Allergy Clin Immunol. 2022 Jun;149(6):2180]. J Allergy Clin Immunol. 2020;145(1):70-80.e3. doi:10.1016/j.jaci.2019.06.049 Dr Kamal Kant Kohli-MBBS, DTCD- a chest specialist with more than 30 years of practice and a flair for writing clinical articles, Dr Kamal Kant Kohli joined Medical Dialogues as a Chief Editor of Medical News. Besides writing articles, as an editor, he proofreads and verifies all the medical content published on Medical Dialogues including those coming from journals, studies,medical conferences,guidelines etc. Before Joining Medical Dialogues, he has served at important positions in the medical industry in India including as the Hony. Secretary of the Delhi Medical Association as well as the chairman of Anti-Quackery Committee in Delhi and worked with other Medical Councils in India. Email: editorial@medicaldialogues.in. Contact no. 011-43720751