ESI dispensaries to be made 6-bed hospitals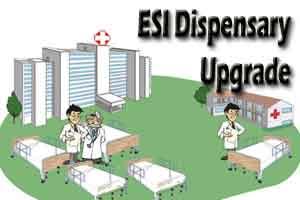 In order to scale up the medical and health service, the Union Minister for Labour Bandaru Dattatreya has recently announced his decision to convert the ESI dispensaries in to 6-bed hospitals across the country.
With this move, the many families covered under the ESI scheme are likely to immensely benefit from the upgraded facilities.
Also, a massive survey has been initiated by the Employees State Insurance Corporation (ESIC) to provide social security to workers in the organised and unorganized sectors.
Union Minister of Labour Bandaru Dattatraya has implied that the nationwide survey aims to bring 35 crore workers under social security benefit in the next two years. It is also expected to be extended to North-Eastern states and Andaman Islands too.
Also read: 
Telangana: ESIC to take 35 cr workers under social security scheme
As reported by the
Hindu
, a meeting of ESIC, of which the Minister is the Chairman, is going to held here on Friday to ratify several decisions taken in the recent months and to review the information collected through a nationwide survey taken up to identify all insured persons (IPs) of ESI scheme.
On the development programmes in Telangana and AP, the minister explained that the ESI Medical College at Sanathnagar here would start functioning from September this year with interviews for appointment of faculty were also completed. The Medical Council of India (MCI) had its preliminary visit to the facility and expressed satisfaction, he noted.