ESIC Dispensary in Every District, Nursing Internship Program at ESIC hospitals: Labour Ministry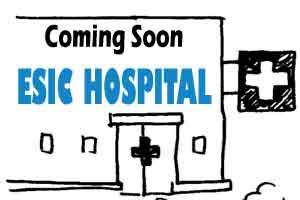 New Delhi: The labour ministry said the state insurer Employees' State Insurance Corporation (ESIC) has decided to open Dispensary cum Branch Office in every district of the country to strengthen medical services. Besides this, some very important decisions were taken towards improvements in service delivery mechanism of the ESIC in its 174th meeting in New Delhi yesterday under the Chairmanship of Labour Minister Santosh Kumar Gangwar, a labour ministry statement said.

To strengthen medical services in all the districts of the country, the decision for opening of one ESIC Dispensary cum Branch Office (DCBO) in every district of the country was taken in the meeting, the statement said.

DCBO will provide primary medical care, referrals for secondary medical care, scrutiny of bills of secondary care referrals, etc besides distribution of drugs to Modified Employer Utilisation Dispensary, IMPs (Insurance Medical Practitioners) in the district, payment of cash benefits, survey work for coverage in the district.


"The ESIC would offer practical work experience to graduate nursing pass outs, focusing on application of nursing theory and knowledge to actual nursing tasks in medical settings.

"A stipend (consolidated) of Rs 22,000 could be provided for duration of the internship. The selection would be based on merit and number of positions for internship could be around 20 per cent of the sanctioned strength of Staff Nurses for the ESIC hospital," the statement noted.

The ESIC has given in-principal approval to Modified Insurance Medical Practitioner (IMP) Scheme, 2018 to make it more attractive on pilot basis. This scheme may further be expanded in the new areas as well as existing areas as per need.

In an area, where ESIC does not have its medical establishment, or in newly implemented area, primary medical care is provided cashless through tie-up arrangement with Insurance Medical Practitioner (IMP). The ESIC will utilise the services of private practitioners (as IMPs) for delivery of primary care services (except for lab tests & medicines) to insured persons.

"The decision of construction of 100 bedded ESI Hospital in Bahadurgarh, Haryana; 50 bedded additional facilities for Super Speciality treatment at ESIC Hospital, Varanasi, UP; and starting of 100 beds medical facilities in ESIC Medical Hospital, Bihta, Patna, Bihar were also taken in the meeting," it said.

Besides this, the proposal for upgradation of existing ESIC Hospital at Bibvewadi, Pune from 50 to 200 beds (upgradable to 500 beds) and enhancement of bed strength of the ESIC Hospital, Namkum, Ranchi from 75 to 200 beds and construction thereby of 200-bed ESIC Hospital at Ranchi, Jharkhand were approved.