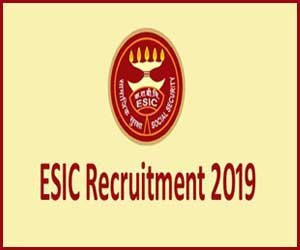 New Delhi: Through a recent notice ESIC New Delhi has released 329 Vacancies for Super-Specialist and Specialist on Direct Recruitment Basis. The selection will be done through Interview.
Employees' State Insurance Corporation is a statutory body constituted under an Act of Parliament (ESI Act, 1948) and works under the administrative control of Ministry of Labour and Employment, Government of India. Employees' State Insurance Corporation proposes to recruit Specialist Grade – II (Senior Scale) and Specialist Grade– II (Junior Scale) on direct recruitment basis. 
Last date of receipt of application is 24.01.2019. (Last date for receipt of application from candidates residing
in Assam, Meghalaya, Arunachal Pradesh, Mizoram, Manipur, Nagaland, Tripura, Sikkim, Ladakh Division of Jammu and Kashmir State, Lahaul and Spiti District and Pangi Sub-Division of Chamba District of Himachal Pradesh, Andaman and Nicobar Islands and Lakshadweep will be 31.01.2019).
The vacancies are in the State of Delhi, Gujarat, Haryana, Himachal Pradesh, Karnataka, Kerala, Madhya Pradesh, Maharashtra, Punjab, Rajasthan, Tamil Nadu, Uttar Pradesh, West Bengal, Bihar, Chandigarh UT, Jammu & Kashmir, Jharkhand, Kerala, Orissa.
The vacancies are in the Department of Cardiology, Endocrinology, Gastroenterology, Haematology, Nephrology, Neurology, Oncology, Urology, Anesthesia, Biochemistry, Dermatology & STD, General Medicine, General Surgery, Microbiology, Obst. & Gynae., Ophthalmology, Orthopedics, Oto-Rhino–Laryngology (ENT), Pathology, Pediatrics, Pulmonary Medicine, Radio Diagnosis, Psychiatry.
For more details about Super-Specialist and Specialist Recruitment, state wise,  click on the given links:
Note 1: Above vacancies may increase or decrease depending upon the actual requirement.
Note 2: The Govt. of India, Ministry of Personnel, PG & Pension, DoPT vide O.M. dated 15.01.2018 has revised the quantum of reservation for Persons with Benchmark Disabilities to 4% along with introduction of some new categories of disabled.
The new categories of disabled introduced vide DoPT above referred OM dated 15.01.2018 are not included in the existing identification of posts reserved for PWDs for the above mentioned posts.
The vacancies under PWD category as per above referred DoPT OM dated 15.01.2018 will be advertised and filled up separately under Special Recruitment Drive after identification of Categories of disabled suitable for the post of Specialist Gr. II by the Govt. of India.
Note 3: The PWD candidates may apply for the above posts on OWN MERIT, subject to their suitability for the post to be identified by the Government of India under category C, D and E. The vacancies reserved for PWD shall be filled up separately as mentioned in Note-2 above.
For the original notification, click on the following link
0 comment(s) on JOB ALERT: ESIC releases 329 vacancies in Multiple States for Specialist and Super-Specialist, details