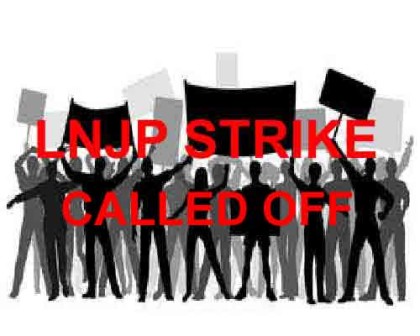 While the government and the police have made many promises about providing ample security to doctors and addressing the issue of violence against doctors more seriously, FORDA has made its stand clear- " Let Every incidence of Assault be followed by a strike of at least one day in that hospital. "
New Delhi: With the recent assault of residents of the Gynaecology Department at LNJP, and subsequently the doctors of LNJP hospital unitedly going on strike, both the police and the government finally began their efforts today, to pacify the angry doctors.
Post 26th January, 2016, LNJP hospital began its day today with resident doctors getting together for strike and sitting in a Dharna. The RDA representatives as well as representatives of FORDA, Delhi on the other hand began their day running from pillar to post (a.k.a Delhi Police offices to Delhi Health Ministry offices) asking for justice for their colleagues in the Gynae Department as well as demanding protection for all concerned.
In the morning, the representatives met with the DCP Central District, on action on the institutional FIR.  As informed by Dr Muneesh, RDA President MAMC , today, that is on the third day of the said strike, the DCP has finally assured them that interrogation will be started on the accused today.
In the meantime, with the doctors not coming back to work, desperate Dr Tempe began issuing orders that ranged from threatening interns with their degrees, PG students with their exams permission, ad-hoc resident doctors with their extension as well as asking the consultants and faculties to prepare for overtime.
The doctors finally got their meeting with the health ministry around 4 p.m. In the meeting with the health minister, following actions have been promised at LNJP
Deployment of at Least 4 home guards with proper uniform in each shift in Gynae Department
Deployment of 3 to 4 home guards in paediatrics casualty in each shift.
Deployment of 3 to 4 home guards in main casualty in each shift.
Deployment of 2 to 3 Home guards in Burns and Plastic Department in each shift.
Installation of security alarm in all casualties.
Installation of CCTV in casualty and other sensitive areas of the hospital at the earliest.
No Punitive action should be taken against the resident doctors relating to this incident.
With these promises and after subsequent meeting with the MS, Doctors of LNJP have decided to call off their strike.
However, angry FORDA and  LNJP RDA members, while calling off their strike for the benefit of the patients awaiting their treatment in one of the busiest hospitals of the capital, have declared a dictum for the future- Let every Assault be followed by a strike for at least one day in that hospital.
Dr Ravider Chauhan, Secretary FORDA said, " Government has no business to run a hospital, if it can't even provide security to its female staff working in the hospitals.  It is the duty of the government to provide protection beforehand, so that such incidences do not take place at all."
Speaking to Medical Dialogues, Dr Pankaj Solanki, President FORDA said, " It is the duty of the government as well as the police to work together and provide a safe working environment to doctors working in government institutions. Time and time again, we have been made these promises of better security and safe working environment, but in terms of execution, this matter is taken lightly . Therefore, every time the government fails to perform its duty, or there is a lapse, the resident doctors of the institute should take the liberty of not showing upto work for one day as a reminder of how important this matter of security is to us. "
0 comment(s) on Every Assault will be followed by a strike: FORDA