Experts to Deliberate role of healthcare sector on Climate Change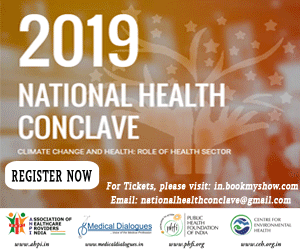 New Delhi: In a first of its kind endeavour to promote create awareness about climate change and its impact on Health, Association of Healthcare Providers of India (AHPI) in association with the Public Health Foundation of India (PHFI) is going to organize National Health Conclave on Global Climate Change and its impact on 23rd March 2019 in New Delhi.
Global climate change is an emerging threat to public health.  India is amongst the countries who are most susceptible to global climate change as it has seen immense growth in industrialization which has resulted in increased pollution. Climate change has not only impacted health but has also impacted the agro-industry.
Keeping in mind the harardous effects of climate change, the Conclave is going to address the role of health sectors in combating health complications due to climate change in India, along with outcomes of global climate change in the health and socio-economic status of the country.
The conclave will begin from 09:00 am and will continue till 3:30 pm. Eminent figures like Dr. Poornima Prabhakaran – Deputy Director, CEH, PHFI, and Dr. Girdhar J. Gyani as esteemed speakers of the conclave are going to discuss the issue and what steps could be taken by the country in the coming days. This will be followed by a live performance by Grammy Award Winner Ricky Kej.
The major issues going to be addressed by the conclave are:


Climate Change in India- impact on health and socio-economic outcomes


Air pollution and health- current scenario linkages and co-benefits of addressing air pollution along with climate change


Role of the health sector in climate change – contribution to GHG emissions


 Inter-sectoral approach to mitigation – perspectives from policymakers, academics, providers, and industry.


Speaking to Medical Dialogues,  Dr Alex Thomas, an organizing member of the conclave said" Climate change in India is slowly appearing to be one of the biggest challenges for the health care sector of India. It's high time for the countries researchers and healthcare professionals to develop mitigation strategies in this direction. The conclave has been organized as an effort to create awareness among people and make them realise that the effects of climate change are real and hazardous on our health."