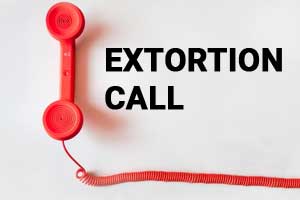 Mumbai: Petrified after a getting an extortion call from a notorious gangster who was formerly in Chota Rajan's gang; a Chembur-based doctor, also a part-owner of Sai Hospital has lodged an FIR with the local police.
Dr Sayyed, the victim doctor, has stated in his complaint that the fugitive gangster Ravi Pujari had called him up and threatened him with dire consequences if he did not pay him a ransom amount of Rs 5 crore.
The doctor received the call on October 6 at around 12:35 pm where the caller identified himself as Ravi Pujari and asked him to pay Rs 5 crore as ransom. He threatened Dr Sayyed that if he failed to pay the amount, he would be "bumped off."
................................ Advertisement ................................
The gangster also asked the doctor to note down a mobile number and said that he would receive a call from this number on October 8. Dr Sayyed was instructed to respond to the call for further payment instructions.
However, the doctor stood up and approached the police. In his statement to the police, the doctor said that he received a text message from Pujari on Monday at 6:45 pm.
................................ Advertisement ................................
As per The Free Press Journal, Pujari threatened Dr Sayyed in the message stating, "Mujhe 5 crore chahiye nahi toh tera hospital bandh. (I want Rs 5 crore; otherwise your hospital will be closed down.)"
Speaking to the Free Press Journal, the doctor said, "Fearing for my life, I submitted a complaint to the Chembur police on Tuesday. They have recorded my statement and registered a FIR. I am a small man with little money. I think the gangster had called and text me by mistake."
It has been reported by TOI that this is the apparently the first time that Pujari has targeted a doctor. The gangster is known for extorting huge builders mostly as well as developers and has fled the country over a decade ago with almost 20 cases of extortion against him. After working in the Chota Rajan gang, he formed his own gang and currently works from abroad.
He reportedly uses Malaysian and Australian cards to make phone calls and VOIP calls. He usually hires history sheeters and promises them hefty pay to commit the crime.
A police officer told TOI, "The Pujari gang has almost been crippled due to stern police action. He calls up people hoping he will get some extortion money. However, in most of the cases, police arrest his men."
The Chembur police have begun their investigation and are analysing the caller's details.
Read Also: Patna Neurosurgeon gets extortion call for Rs 4 crore, FIR lodged
Garima joined Medical Dialogues in the year 2017 and is currently working as a Senior Editor. She looks after all the Healthcare news pertaining to Medico-legal cases, MCI/DCI decisions, Medical Education issues, government policies as well as all the news and updates concerning Medical and Dental Colleges in India. She is a graduate from Delhi University. She can be contacted at editorial@medicaldialogues.in Contact no. 011-43720751
To know about our editorial team click here
................................ Advertisement ................................
0 comment(s) on Extortion Call shakes up Mumbai Doctor, Notorious Gangster demands Rs 5 crore