................................ Advertisement ................................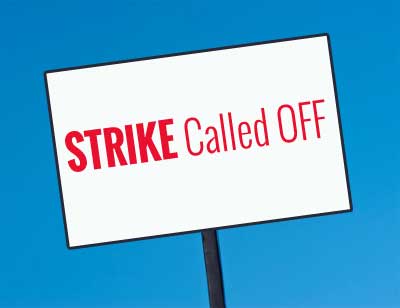 Chennai: Tamil Nadu Government Doctors Association on Friday announced withdrawal of their over-two week stir demanding restoration of 50 per cent reservation for them in admission to PG medical courses, hours after the Madras High Court took a serious view of their strike. TN Government Doctors Association General Secretary, Dr P Balakrishnan told reporters in Chennai that they have decided to withdraw their strike and resume work.
He said the decision was taken based "on our faith in the judiciary and the assurance of the government that it will take steps on the matter," adding "we hope, there will be good outcome to our demand."
Stating that the "peaceful and democratic protest held for over two weeks" would now end, he said the association will apprise the High Court of their decision, tomorrow.
................................ Advertisement ................................
He said restoration of 50 per cent reservation was their only goal.
................................ Advertisement ................................
More than 90 per cent of doctors were members of their association which was nearly 50-years-old and state recognised, Balakrishnan said.
Government doctors in Tamil Nadu have been boycotting work demanding a 50 per cent reservation for them in admission to post-graduate medical courses in the state.
The stir partially affected outpatient services in hospitals with doctors not taking up "elective surgeries," though they were attending to emergency procedures.
While hearing a PIL, the high court took a serious view of the doctors' protest and orally observed if the Essential Services Maintenance Act could not be invoked against them.
The court said there was no moral or equitable justification for the doctors to go on strike and they cannot take the society to ransom by going on strike.
"If at all they are aggrieved, they can very well resort to the machinery provided under different statutory provisions for redress of their grievances," it said.
"This court hopes that the doctors will call off strike and return to duty to continue their service."
The government has already held talks with doctors and assured its support to them on the matter, while urging them to withdraw their protest.
The doctors, however, wanted the government to take legal steps to ensure reservation for them.
The issue came to the fore after a single judge of the court on April 17 ruled that incentive marks to in-service candidates in PG admissions would have to be based on the Medical Council of India (MCI) regulation and not as per the state government prospectus.
A division bench had on Wednesday delivered a split verdict on the appeals filed challenging the single judge order and arguments are now on before a third judge on the matter.
As per the MCI regulations, 50 per cent of the medical seats should be allocated to all-India quota while the rest can be retained by the state. Out of this, 25 per cent of seats should be for the in-service candidates.
The state government had submitted in the court that the award of the incentive marks to in-service candidates was being made for the past 35 years to encourage doctors to serve people in remote, hilly and difficult areas and was not violative of the MCI norms.
Studied at Indraprastha College for Women (Delhi University), completed in year 2014. Currently working with Medical Dialogues, a online Medical news paper dedicated for healthcare Professionals.
0 comment(s) on Facing High Court Wrath, TN Doctors withdraw strike
................................ Advertisement ................................