Faculty Crunch: 50 Doctors transferred from SMS Medical College to gain MCI nod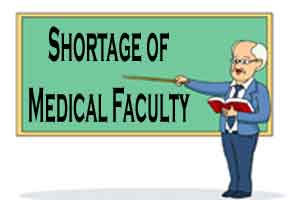 Jaipur: In view of the severe faculty crunch at the medical institutes, which are due for Medical Council of India (MCI) inspection, the Medical Education Department recently transferred over 50 doctors from the Sawai Man Singh Medical College (SMS Medical College), Jaipur to newly established medical colleges across Rajasthan.
The state was facing an acute shortage of doctors at its medical institutes which is against the norms laid down by the MCI. Therefore, the doctors were transferred to other colleges so the newly established medical colleges would recognition from the MCI. The mass transfer from the medical college has reportedly hit its healthcare facilities.
A senior administration official of the medical college informed the TOI, "Inspections by the Medical Council of India (MCI) are scheduled in some medical colleges of the state. So the medical education department has transferred over 50 doctors from the SMS Medical College."
The doctors who are transferred include senior professors. These include specialists in Medicine, Pharmacology, Biochemistry,  Radiology, Orthopaedics, and Microbiology, among others.
Read Also: Kerala: HOD surgery Handed over Transfer Orders after protest from Hospital Nurses
According to the report, ten doctors were transferred to Dungarpur Medical College from SMS Medical College and four from Kota to Dungarpur. Four Orthopaedic specialist doctors were transferred to the Government Medical College, Kota to fulfill the faculty strength as the department had proposed an increase in MBBS seats from 150 to 250.
The academic session in five new medical colleges at Dungarpur, Pali, Bharatpur, Churu, and Bhilwara started from 2018-19.
The doctors are waiting for the MCI inspection; they are hopeful that they will be called back once the inspection gets over. Meanwhile, the patients coming to the SMS medical college are in quandary over the shortage of doctors which took place due to the mass transfer.
"Patients are facing difficulties due to mass transfers of doctors. A patient gets regular treatment from his specialist doctor and if that doctor is transferred, the patient is left in lurch. A doctor who provides treatment regularly to his patients understands their problems better."