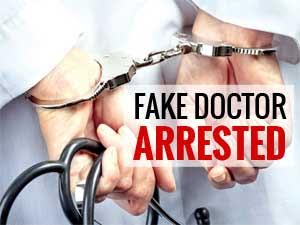 Kolkata : West Bengal CID has arrested one person from Barasat in North 24 Parganas district for practising as a dentist without a proper medical degree.
The CID had conducted a raid at a chamber at Barasat last evening following a complaint by the registrar of West Bengal Dental Council that a number of fake dental surgeons were practising across the state, a senior officer of the department said.
Sanjit Basu, the fake dentist was caught red handed issuing a prescription to a patient. When interrogated he admitted to the CID that he did not have the required qualifications and was arrested, the officer said.
Basu has been booked under various charges, including cheating, forgery and criminal conspiracy, he said.
The state CID has formed a special investigating team (SIT) after the West Bengal Medical Council had declared that over 500 fake doctors are operating in different state-run and private hospitals across the state.
The CID have already arrested six fake doctors who were attached to different state-run and noted private hospitals in the state.
0 comment(s) on Fake dentist arrested by CID in Bengal