Fake Doctor Cheats Woman for Rs 14 Lakh with Matrimonial promise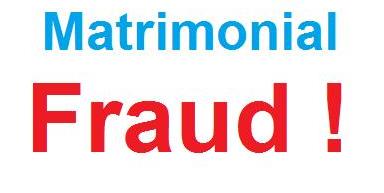 Hyderabad: A man was arrested from Delhi for allegedly being part of a gang that cheated a city-based woman software employee of Rs 14 lakh in a "matrimonial fraud", police said. The accused, identified as Rashid Khan, was arrested as the woman had deposited her money in his bank account. He was brought to Hyderabad from Delhi on a transit remand, Rachakonda police commissioner Mahesh M Bhagwat said.
"Khan has confessed that he is working for an Indian handler mediating with a Nigerian national who is the kingpin in this case. For each transaction, Khan was getting 10 per cent commission," the commissioner said, adding that police have identified all other accused involved in the case. The officer said the woman complainant got her profile registered on a matrimonial website seeking groom and on February 7 this year she received a message from one 'Dr Sumanth Bharath' who identified himself as a UK-born doctor of Indian origin, expressing his willingness to marry her.
"Subsequently, both of them started communicating with each other over WhatsApp and exchanged family photographs. In April, the person who claimed to be doctor said he is intending to visit India along with his sister and the latter's five-year-old son, and asked the victim to make payment to a consultant for their Indian visa," Bhagwat said. He said when the woman expressed her inability to pay to the consultant cum travel agent, 'Dr Bharath' told her that he will be sending one million UK Pounds through an agent.
"After two days, she got a call from the so-called agent stating that the container of this currency has arrived but got stuck up with the Customs department," the commissioner said, adding that the agent then told the woman to pay for various charges like Customs clearance etc. at Delhi airport. The officer said the woman was sent some photographs of bundles of the UK currency to convince her about the arrival of money.
"The woman walked into the trap of fraudsters and deposited Rs 14 lakh in various bank accounts in India. She realized that she got cheated when the demand for more payments was made. She approached cyber cell of Rachakonda Commissionerate on May 15," Bhagwat said. A case was registered under relevant sections of the IPC and IT Act. Khan was arrested after the police brought his bank account under scanner. Police suspect involvement of Nigerian nationals in such "matrimonial frauds" that have been cracked in the past two years.