First-ever nutrition policy soon for severe acute malnourished children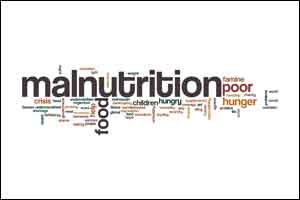 New Delhi: In a first, the government will soon release a nutrition policy for severe acute malnourished (SAM) children, a senior official said.
The World Health Organisation (WHO) had in 2006 defined severe acute malnutrition as very low weight for height visible by severe wasting, or by the presence of nutritional oedema.
"We are devising a separate policy for severe acute malnourished children which will be out in October," Women and Child Development Secretary RK Shrivastava said at a press briefing.
According to Dipa Sinha, an activist from the Right to Food Campaign, the country doesn't have a protocol for treating a majority of SAM children.
"Generally, it is known that 15-20 percent SAM children can be treated in a hospital and the rest can be treated in the community. We have guidelines for facility management under National Rural Health Mission but we don't have guidelines for community management," Sinha said.
As per the National Family Health Survey (NFHS) 4, 7.5 percent of total children were found to be severely wasted, up from 6.4 during NFHS 3. The total number of such children in the country is at 93 lakh.
The National Nutrition Policy, 1994, deals with protein-energy malnutrition, iron deficiency, iodine deficiency, vitamin A deficiency and low birth weight children. SAM as a condition was identified only in subsequent years.