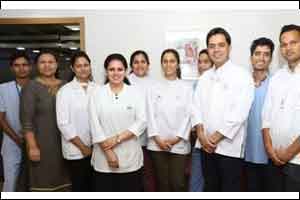 Gurugram: Annually, more than 3 lakh Indians undergo dental implant surgery and studies highlight that by 2025 this number is expected to touch 15 lakh Indians. The low numbers of dental implant surgeries are due to the lack of awareness, unavailability of specialists and infrastructure to support the same. Moreover, amongst all the recent dental science innovations, dental implants have given patients predictable, long-term fixed prosthetic solutions.
Taking the need for tertiary care services in all specialties into consideration, Paras Hospitals, Gurgaon has launched a Super Specialized Dental Implant Clinic focused on providing the highest level of surgical expertise, quality care, hygiene and infection control policies. The clinic has been launched under the aegis of Dr. Sageer, HOD Alpha Dental Care at Paras Hospitals, Gurgaon. "The specialty and uniqueness of the dental implant clinic is its exclusivity. Usually dental centres share the areas for implants with other procedures too. We at Paras have created a special dental room equipped with the latest technology for patient vital monitoring and control. The area is sterile with a detailed OT sterilization protocol to ensure that the highest level of surgical care with zero infection rate is provided," shares Dr. Sageer.
Dr. Sageer also adds, "The clinic area and the procedure chair are also supported with a digital monitor to keep a check on the patient and detect any changes in the vitals. This makes the clinic fully equipped with super specialty care as in case of any eventuality, the patient doesn't have to be taken anywhere and can be treated at the site itself." This is an important aspect as studies highlight that more than 15% of patients post a dental implant surgery suffer from some short-term or long-term health complication.
The services rendered by the dental implant clinic are affordable and over the last few years, Dr. Sageer and his team have been able to successfully perform more than 2000 dental implant surgeries. He shares, "We have more than 20 dental experts in our team in Paras Healthcare, and we are committed to provide the best dental care based on affordability, accessibility and quality. We are also the only clinic in Delhi NCR to provide lifetime warranty on the dental implants."
Dr. Sageer speaks on the unawareness about the type and the quality of dental implants and the importance of opting for a super specialized and accredited centre for dental implant surgery, "These days, we see a number of clinics using spurious implants that have no warranty. We request all patients to research the doctors, their success rate and above all know about the brand of the implant that is being used for the surgery."
Dr. Sageer shares, "It is important that we give importance to our oral health as it also ensures our overall health. Only a handful of people across the country take oral healthcare seriously. For the most part, Indians only approach a dentist when faced with a crisis, and usually only after they turn 40. We sincerely hope that with the advent of technology, focused treatment approach awareness is created and this gap is bridged."
1 comment(s) on First super specialized dental implant clinic launched by Paras Hospitals in Gurugram