Five rupee Doctor to contest as independent in Karnataka elections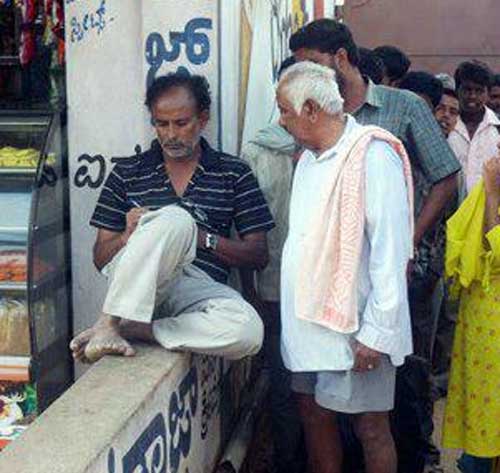 Mandya: Mandya Assembly segment, known for its extravagant poll campaign expenditure incurred by major party candidates is witnessing a true son of the soil testing the electoral waters.
Dr. Shankare Gowda charges only Rs 5 per patient for a 'complete package' which include a thorough checkup, consultation, prescription and medicine including injection, if needed and is hugely popular in this region for the past 35 years.
A native of Shivalli and resident of Bandi Gowda Layout, has an enormous fan base across the district. He had neither increased the fee nor joined any private hospitals in spite of good pay-packages offered to him.
Accompanied by his wife Rukmini, daughter Ujwala and others, he visited the taluk office and submitted the nomination papers for Mandya Assembly constituency.
The MBBS graduate from highly reputed Kasturba Medical College in Manipal, has also done his PG Diploma in Venereology and Dermatology (DVD). He attends to at least 500 patients at his village and clinic in the town every day.
This skin specialist, say many, has magical hands that could treat any skin ailments and sexual diseases. His popularity has reached every corner of the district. Whether clad in a 'lungi' and transplanting seedlings/cultivating crops at his farmland or walking on streets even with his family, people instantly join their hands and say 'Namaste doctor' when they see him. They often ask about prescriptions for leprosy, itching sensations or sexual health issues.
The constituency is ridden with problems. This prompted him to contest, he told presspersons. Initially, he was anticipating the ticket from his parent party JD(S). He was also expecting a ticket from the BJP. But neither of them offered him a ticket and he decided to go at it alone.
Dr. Gowda had represented Mandya Zilla Panchayat from the local constituency on a JD(S) ticket during the last term.