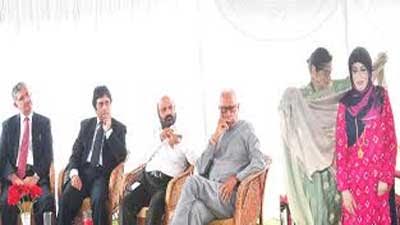 Srinagar: Jammu and Kashmir Governor N N Vohra felicitated Firdous Ansari, a senior nurse from the state, who recently received the Florence Nightingale award from President Pranab Mukherjee.
Ansari, senior staff nurse at Sher-I-Kashmir Institute of Medical Sciences, Soura, was felicitated by the governor during a function held at the Raj Bhawan here.
The president had conferred the Florence Nightingale Award to 35 nurses from across the country on the occasion of International Nurses Day on May 12 at the Rashrapati Bhavan.
Congratulating Ansari for her outstanding achievement, the governor lauded her professionalism, dedication and devotion in providing nursing care to a large number of patients over the years since she joined SKIMS.
"Ansari has made all of us in the state proud with her achievement," the governor said and hailed SKIMS' director and staff for providing the best medical care in the state.
Vohra stressed the need for giving due recognition to doctors, teachers, paramedics, nurses, government employees and others who serve with efficiency and diligence for the betterment of the society.
The function was attended, among others, by the state Health Minister Bali Bhagat.
0 comment(s) on Florence Nightingale Award recipient Ansari felicitated