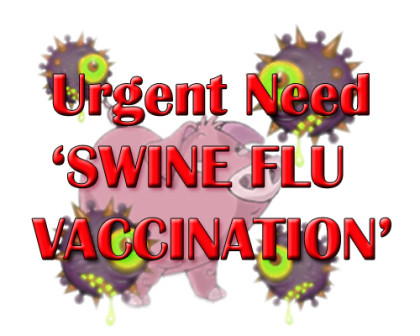 On behalf of the Federation of Resident Doctors Association,  an organization comprising of 15000 resident doctors across the government hospitals in Delhi, as well as for the benefit of all the doctors of Delhi, Dr Pankaj Solanki, President FORDA wrote to both the Union health minister as well as the Delhi Health Minister,  asking for IMMEDIATE SWINE FLU VACCINATION of ALL  RESIDENT DOCTORS throughout the capital
As all are aware that the menace of Swine flu has reached Delhi with cases of reported swine flu on the rise in the city as well as number of swine flu deaths also rising. As per data of 2014-2015, over 25000 patients across the country had been found to be positive and almost 2000 of them lost their lives. And this year as per latest CDC data almost 2500 patients have already been found positive and has claimed more than 100 lives already. With the advent of winters, it is expected that these numbers will only rise
Doctors and health care professionals are extremely vulnerable to this highly communicable disease. Moreover, this disease is highly dangerous owing to its airborne transmission and we know that health care professionals have always been at high risk as they stay exposed to suspected patients. Its also Important to note that exposed doctors and healthcare professionals also stand a chance of being an unwilling carrier of the disease and hence exposing the virus to vulnerable population coming into the hospitals.
In the light of the impending epidemic, FORDA has asked the Hon'ble health minister to ensure the implementation of the following at the earliest
1)   Urgent vaccination of all doctors and healthcare professionals across the city.
2)   Ensuring the provision of N-95 masks and other Personal Protective Equipements at all government hospitals
3)   Ensure that isolation wards are already in place
Speaking to Medical dialogues, Dr Pankaj Solanki said, " While we applaud the initiative of the government to place an order of 1,00,000 vaccines for healthcare professionals, the initiative will have its full impact only when all healthcare professionals have been vaccinated. With this aim we have requested the  respective health ministers to intervene and ensure the same at the earliest."
0 comment(s) on FORDA demands for urgent Swine Flu Vaccination of Doctors in the capital