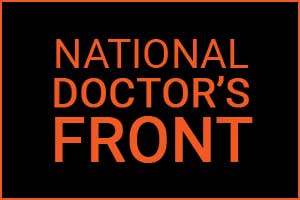 New Delhi: With its beginning as the resident doctors association uniting the resident doctors associated with the government hospitals in the capital, FORDA recently announced its metamorphosis to becoming a national body of medical practitioners including both government and private doctors. For the same, it has launched National Doctor's Front, an alliance of FORDA
"FORDA has launched "National Doctor's Front (NDF)", an alliance of FORDA, following the National Executive Committee Meeting held on 1st July (Doctor's Day). The front will be headed by Dr. Ravinder Chauhan and Dr. Pankaj Solanki. NDF will include senior doctors working in the government sector and private practitioners and issues of doctors from multiple sectors will be addressed," informed Dr Vivek Chauksey, president, FORDA.
"Currently, NDF is in talks with doctors from 25 states of the country who are willing to join the body for better representation of their multiple issues. NDF will have a Governing Council and Central Advisory body and representatives from various states will be incorporated into State Medical Councils. Staying true to the motto of FORDA, NDF will be fighting for the rights and issues of the whole medical fraternity of the country," he added
Along with the launch of NDF, FORDA has also declared that a  Student's Wing  will be launched that will include Undergraduate medical students. The Student's Wing will be formed to address the issues that medical students of various colleges in the country have to deal with.
8 comment(s) on FORDA goes National: Announces formation of National Doctor's Front