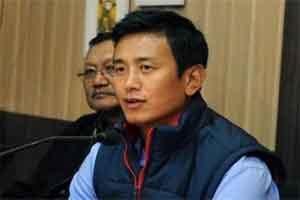 KOLKATA – With an aim to help the poor cancer patients, a fund-raising event called "Walk-for-A-Cause" with former India footballer Bhaichung Bhutia as its goodwill ambassador has been announced.
The walk organized by North East Officers Professionals Welfare Association, a non-government and non-profit organization, will help raise funds to help cancer patients from the north-east coming to Kolkata for treatment at Tata Medical Center.
 The walkathon will be held on Jan. 10, starting from the ground adjacent to the Territorial Officers Institute near Park Street Crossing, NEOPWA secretary Amitabha Gan Chaudhuri told reporters Jan. 5.
"It's an honorable cause and hopefully we can help lots of people, especially cancer patients," former Indian captain Bhutia said.
The Indian football legend also mentioned that his father was also a cancer patient who died on Dec. 6, 2012.
"My father was a cancer patient himself, so this is something very close to my heart and I'm very happy to be part of it."
"The walkathon is our first noble attempt for a divine cause to support the underprivileged cancer patients coming from north-east," said Chaudhuri.
"It is also to build awareness among the people of Kolkata and north-east about the deadliest face and perils of cancer. NEOPWA pledges to donate a major portion of the amount collected to Tata Medical Center, Kolkata, to support all the poor cancer patients coming from north-east for treatment at their hospital."
0 comment(s) on Former Footballer Bhaichung Bhutia to Lead Walk For Cancer Patients