Fortis Cancer Institute Mohali turns 1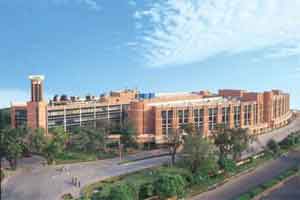 The Fortis Cancer Institute in Mohali recently celebrated its 1st anniversary in Mohali through a cultural exuberance and bonding with patients and their families at the facility

Fortis Cancer Institute in Mohali has recently completed one year of operations in Mohali and the hospital celebrated the occasion with its patients and their family members. Fortis Hospital organized 'Sukhmani Sahib paath' and 'GurbaniKirtan' preceded by a cultural program on Himachali dance display, A play of 'Swach Bharat' was also presented in the OPD and IPD lobbies of the hospital.

Ashish Bhatia, Regional Director (North), Fortis Healthcare Ltd, is reported to have said that a year ago, when they had started Fortis Cancer Institute, the aim was to launch a dedicated facility for cancer treatment that would provide relief and hope to thousands of people in the region afflicted with this dreaded disease. It is extremely gratifying to see that the people have benefitted from our facility."

The state-of-the-art technologies deployed at the Institute includeVMAT - Volumetric Modulated Arc Therapy, SRS - Stereotactic Radio Surgery, SRT - Stereotactic Radiation Therapy,IGRT – Image Guided Radiation Therapy,IMRT -Intensity Modulated Radiation Therapy, ART - Adaptive Radiation Therapy, BRACHYTHERAPY -18 channel HDR system for interstitial & intra-cavitary brachytherapy. For early and precise detection of cancer, the Fortis Cancer Institute is equipped with the most advanced PET-CT, an imaging tool that combines two scan techniques in one. There is also provision for MRI/PET-CT fusion-based radiation planning technology, as reported in a press release.