Fortis Foundation launches two new charitable medical dispensaries in Delhi and Haridwar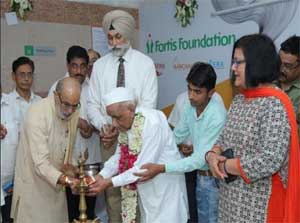 New Delhi: The Fortis Foundation recently launched two charitable medical dispensaries at the Anubhavi Ashram in Haridwar, Uttarakhand and at the Aggarwal Dharamshala in New Delhi.
Both dispensaries are operating under the guidance of one senior doctor each, supported by para medical staff and nurses. Medical consultations are free of cost and the dispensaries operate from Monday to Saturday between 10 a.m. and 6 p.m.
With these recent launches, the Fortis Foundation now runs five charitable dispensaries across India.
The dispensary in New Delhi was inaugurated by Shanti Prakash Goel, Founder Member, Bhogal Dispensary. The event was attended by Col. Harinder Chehal, R-COO, NCR and Mr. Hemant Dhingra, Director Finance, RHC Holding Private Limited. Fortis Foundation representatives - Mr. Rajeev Dua, Program Director, SEWA and Ms Sudha Jhijaria, Program Associate, SEWA were also present on the occasion.
The launch event at Haridwar was attended by Sandip Singh, Facility Director, Fortis Dehradun and Mr Pankaj Sharma, Head, Marketing, Fortis Dehradun. Mr Rajeev Dua and Ms Sudha Jhijaria were also present along with Mr. Vishal Arora, Finance Director, Fortis Foundation, Dr Lehmber Singh and Dr Satnam Singh Basra, Amritsar.
Rajeev Dua, Program Director, SEWA said, "This is an illustration of Fortis Foundation's diligent efforts to ensure affordable health care along with offering preventive and remedial health care services to the vulnerable sections of society. Our efforts to support the underprivileged are gaining strength through the impact of our work that we do in these dispensaries."
Jasbir Grewal, Head, Fortis Foundation shared,"The launch of these charitable dispensaries are another stepping stone in our attempt to expand the SEWA program.Keeping in line with the spirit of community service, these are our fourth and fifth dispensaries in a row and we are hopeful to offer more such services in the near future. The objective is to ensure access to healthcare for all, which is the hallmark of our patient-centric approach."
The SEWA initiative by the Fortis Foundation addresses the need for access to basic medical services.Through charitable dispensaries, the Foundation ensures medical treatment, guidance, and support to those who are unable to afford basic healthcare facilities. In addition to these new dispensaries at Bhogal and Haridwar, there are three other dispensaries at the Golden Temple, Amritsar; Birla Mandir, New Delhi and Durgiana Mandir in Amritsar. Together these dispensaries have reached across to and served over 63,415 people in need of healthcare.