Frame guidelines on thalassemia treatment: SC to Centre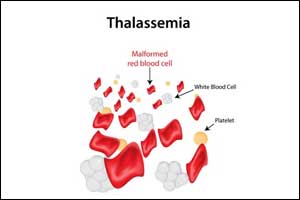 New Delhi: The Supreme Court asked the Centre to come up with guidelines for providing treatment to patients suffering from Thalassemia within four weeks.
Thalassemia, a genetic blood disorder, is usually characterised by abnormal production of haemoglobin in the body and the abnormality results in improper oxygen transport and destruction of red blood cells.
It has wide-ranging effects on the body such as iron overload, bone deformities, and in some cases, heart ailments.
A bench, comprising Chief Justice Dipak Misra and Justices A M Khanwilkar and D Y Chandrachud, asked the Centre to file "requisite guidelines" for providing treatment to patients suffering from Thalassemia within four weeks.
The bench posted the public interest litigation (PIL) for further hearing on March 12.
The court issued the directive while hearing the petition filed by Reepak Kansal. The petition claimed that the disease has no cure and people living with Thalassemia require regular blood transfusion as an effective measure to prolong life.
India is considered to be the Thalassemia capital and around 10,000 kids are born with the deadly disorder every year, the PIL said, adding that 50 per cent of such children die before the age of 20 due to lack of treatment.
Earlier, the Centre had told the apex court that it was not possible for it to issue any advisory to state governments to prioritise care for such patients.
The National Health Mission section and the Union Ministry of Health and Family Welfare had earlier told the court that public health and hospitals were state subjects and it was the primary responsibility of states to provide healthcare facilities to all.
There are about four million Indians who are Thalassemia carriers and over one lakh patients require care and support. Despite this, there is no move to put in place any prevention and control programme at the state as well as the national level, the petition claimed.
With preventive health checks not being the norm in India, people suffering from the disorder are unknowingly passing it on to their children, it said.