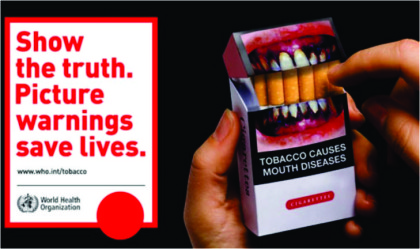 The government is reported to have implemented 85% anti tobacco pictorial warnings on all tobacco products, in order to implement harsher anti-tobacco rules. The new packaging rules are likely to be brought under due consideration from April 1, 2016, with the government giving enough window of time for the industry to implement the new rule.
The 85% pictorial health warnings were originally scheduled for implementation on April 1, 2015 but were delayed following a recommendation by the LokSabha Committee on Subordinate Legislation. The Committee cited lack of concrete evidence on the linkage between tobacco use and life threatening diseases. India is currently ranked at the 136th position worldwide vis-à-vis warnings labels, according to an international report published by the Canadian Cancer Society in 2014.
As implied by a news report in The Tribune, it is a crucial decision to reinforce the anti-tobacco health message-as the new requirement now covers tobacco pack with health warnings from the current 40 per cent on one side to 85 per cent on both sides.
This comes after cardiologist experts have raised their voice on the issue pressing the fact to take urgent steps for cessation of tobacco habits. Cardiologists claimed that more space of tobacco packs need to be devoted to tobacco's cardiovascular events. They said cardiovascular diseases should be given more prominent pictorial representation on tobacco packs because that is more critical to save lives.
They said 85% pictorial health warning on both sides of tobacco packs is critical to save Indians from cardiovascular diseases.
Prof. K. Srinath Reddy, President, Public Health Foundation of India and Honorary President, HRIDAY (Health Related Information Dissemination Amongst Youth), a health NGO, clarified that it is not a turf war between cardiologists and oncologist but a statement of fact. 'Since earliest research was done on lung cancer for tobacco effects, cancer stuck and tobacco's cardiovascular events, and more immediate and precipitate at that, were relegated to non event. That perception needs to change,' he added.
They said cardiovascular diseases are responsible for 26% of deaths in India and tobacco is a major risk factor for these diseases. About 275 million of India's adult population uses tobacco in some form of the other. Tobacco-attributable diseases and death are preventable and 20% of premature mortality related to CVDs occurs due to tobacco use.
Dr. Reddy said, 'People must realize the high stakes of using tobacco not just for themselves but also their families. Tobacco use result in major CVDs, which cost India two times more than costs incurred to treat cancers.  This year marks a crucial year for tobacco control with the United Nations adopting sustainable development goals (SDGs) that include tracking progress and implementation of the WHO-FCTC.  We, as guardians of heart health are strongly committed to combining our clinical practice and efforts in preventive cardiology to highlight the role of CVDs in tobacco control policy development. It is only through measures like the 85% pack warnings, that we can reach our national target of 30% relative reduction of current tobacco use. Success in reaching the SDG targets on health especially the target related to premature mortality from NCDs is pivotally dependent on effective tobacco control in India,'
Dr. H.K. Chopra, President, Cardiological Society of India, said, 'Recent evidence from India shows very low levels of readiness to quit tobacco use. For instance, the first phase of the Tobacco Control Policy (TCP) Evaluation report shows that up to 94% of users of both smoking and smokeless products in the states studied had no intention to quit. It points to the fact that our tobacco control efforts are not adequately highlighting the heinous effects of tobacco use. Clearly, the users are not motivated to quit and this is a serious cause of concern. Large pictorial health warnings are crucial in motivating users to quit and must reflect the far-reaching consequences of tobacco use and we request the government to include CVDs in the range of pictorial warnings. As a society of cardiologists, we can support the government by creating a repository of messages on CVDs and their link to tobacco use.'
0 comment(s) on From 2016, 85 percent Anti Tobacco pictorial warnings on tobacco packaging