From Dandi To Sabarmati: Physiotherapists to march 254-km demanding Independent National physiotherapy council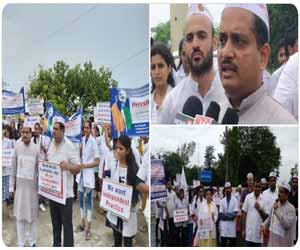 The amended rules can cause the closure of 303 physiotherapy colleges across the country as students there will get a technician's degree rather than Bachelor's and Master's degrees in physiotherapy, one of the protestors stated
Vadodara,  Some 800 physiotherapists from across the country on Sunday began a ten-day 254-km march from Dandi in south Gujarat to Sabarmati Ashram in Ahmedabad seeking setting up of a national council for the profession, one of organizers said.
The 'Physio Swaraj March' will trace the route of the historic Dandi March of Gandhiji which began on March 30, 1929, Prof Umashankar Mohanty, the march organizing committee chairman said on Sunday.
The march will end at Sabarmati Ashram in Ahmedabad on September 3, he added. "800 physiotherapists started the march today. We want an independent physiotherapy council. The other major demand is that issues concerning our profession in the draft Clinical Establishment (Central Government) Third Amendment Rules, 2019, be rectified," Mohanty told PTI.
He said the amended rules can cause the closure of 303 physiotherapy colleges across the country as students there will get a technician's degree rather than Bachelor's and Master's degrees in physiotherapy.
Read Also: Hyderabad Physiotherapist Dies In Paragliding Crash In Himachal Pradesh
"The amended rules can render 67,000 physiotherapists jobless. Unfortunately, the government is not listening to us and so we have had to resort to this form of protest," Mohanty said.
"Why is the government bent on calling us technicians rather than understanding our importance in the medical field," he asked.
He said the move is to press for the establishment of a statutory council for their profession on the lines of the Medical Council of India, Dental Council of India and Nursing Council of India.
Dr Ali Irani, a former physiotherapist for the Indian cricket team, told PTI that the setting up of such a council is absolutely vital for the wellbeing and advancement of the profession.
Read Also: Cadre Restructuring for Physiotherapists: Health Minister apprises parliament