From Nutrition to Epidemic Outbreaks: All Medical Research By ICMR from 2016-2019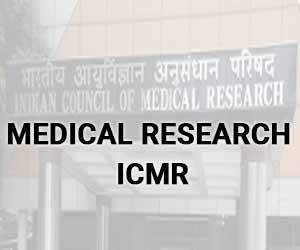 New Delhi: Medical Research is still a growing concept in India. Indian Council of Medical Research (ICMR), the apex body in India for the formulation, coordination and promotion of biomedical research, has been taking a number of initiatives to promote medical research in India
In the last Lok Sabha Session, the MOS health also apprised the parliament about the major research projects undertaken by ICMR during 2016-2019. These include
Outbreak/Epidemic Investigations
The network of VRDLs, duly supported by National Institute of Virology (NIV), Pune with BSL-4 facility, tackles outbreak investigations in the country. ICMR was instrumental in timely detection and successful containment of the recent Zika (ZiV) and Nipah Virus (NiV) outbreaks. In an effort to keep the country bio-secure and establish itself as a leader among South East Asia in tackling crisis investigation,
DHR-ICMR has established 'RESEARCH - Regional Enabler for South East Asia Research Collaboration for Health' in collaboration with 9 countries of South- Asian region. The platform will work to effectively combat emerging and re-emerging infectious diseases in South East Asia region.
Affordable Health Technology
ICMR is working on various indigenously developed medical technologies/devices/kits which are cost effective and applicable in primary health care system. During the last 3 years following innovations took place:
 Shigella Vaccine: Technology transferred to Hilleman Laboratories.
 MIP Vaccine against Leprosy: Validated the Made in India vaccine and is being implemented in National Leprosy Elimination Programme
 Point of Care Diagnostic Test for Blood Disorder: INR 50 test developed for detection of blood disorders, Haemophilia A & von Wilerbrand disease.
 Six diagnostic technologies which include, ELISA based diagnostic tests for detection of diseases viz. Hepatitis E virus, Kyasanur Forest disease (KFD), Crimean-Congo haemorrhagic fever
(CCHF), Chandipura virus (CHPV) and Japanese encephalitis, have been transferred to M/s Cadila Healthcare through execution of license agreement. Three of which have been launched in the market.
 ICMR in collaboration with IIT, Kharagpur is associated with its Imprint programme to work in collaboration for designing health technologies and finding better technological solutions for human health.
 Four fertility assessment kits (InduLISA, CorpuLISA, LuteLISA and FolliLISA) developed and technology licensed to HLL Healthcare, Thiruvananthapuram
 Resazurin reduction test to assess sperm quality and functional ability has been filed. Kits have been prepared and the test is being commercialized by ICMR.
 A sensitive and specific PCR method developed to detect Chlamydia trachomatis (CT) infection in cervical samples is ready for commercialization.
 A sensitive and specific ELISA has been developed for the estimation of human intact Ostecalcin (OC) for assessment of bone health especially in conditions such as osteoporosis. Second party
validation has been carried out.
 ICMR has signed an MoU with Federation of Indian Chambers of Commerce and Industry (FICCI) for commercialization of ICMR technologies under the program 'Health Technology Acceleration and Commercialization (HTAC).
 The Indian Council of Medical Research (ICMR) and the Department of Health and Family Welfare of the Ministry of Health and Family Welfare (MOHFW), GOI signed a Memorandum of Understanding (MOU) with the International Vaccine Institute (IVI), South Korea to collaborate on vaccine research and development.
 Two MoUs were signed between ICMR and Emami Healthcare Ltd, Kolkata on "Development of Standardized Phytopharmaceutical Formulation for Preventing or Delaying the Development of Type-2 Diabetes in Subjects with Pre-Diabetes" and on "Development of Standardized Herbal/Ayurvedic formulation for the Treatment of Sleep disorders".
Supporting Ayushman Bharat
 DHR-ICMR is supporting Ayushmann Bharat and ensuring a sustainable and cost-effective model through its ongoing programmes like health technology assessment, standard treatment
work flows and national list of essential medicines and diagnostics. These programmes would serve as an important tool in prioritizing national health spending and providing a uniform guideline to ensure quality healthcare services across the nation.
 National essential diagnostics list has been prepared to ensure that quality diagnosis is provided at all levels of healthcare facilities.
 Health Technology Assessment India (HTAIn) : To facilitate the process of transparent and evidence informed decision making in the field of health, Health Technology Assessment in India (HTAIn) has been set up to evaluate appropriateness and cost effectiveness of the available and new health technologies in India, so that maximum people can have access to quality healthcare at minimum cost in the country. Health Technology Assessment have been initiated for topics on Intra ocular Lenses for Cataract Surgery, Screening for Breast Cancer, Screening for Cervical Cancer, Non Invasive Hemoglobinometers, Safety Engineered Syringes, Implants that can be part of Family planning Programme, Screening for Diabetes, Bempu Neonatal Hypothermia device, SOHUM Neonatal Hearing Device, Real time PCR for H1N1, Screening for Hypertension and Intrauterine balloon tamponades for post-partum Hemorrhage. Currently, it is conducting a national Costing Study of Health Care Systems in 14 states.
 Standard Treatment Workflows (STW): The first volume has been released on 17th November 2019 that includes 50 diseases across 9 specialities. They will serve as uniform treatment guideline for doctors in primary and secondary healthcare settings. About 300 experts across India's government and private hospitals have been roped in to prepare STWs for 100 common illnesses, ranging from kidney diseases, infections in children to cardiac diseases.
Flagship Programmes
 The India TB Research Consortium: ICMR took a lead and initiated a new flagship Programme to establish India TB research and development Consortium that aims to bring together all major national players (with international collaborators) to address overarching scientific questions to tackle TB in a mission mode.
 TB Diagnostic Initiative: TruNAT Rif, an indigenous, cost effective, rapid molecular diagnostic kit for TB/MDR-TB has been developed in collaboration with ICMR, DBT and the industry. The feasibility study of TruNAT at 100 microscopy centres at 50 districts across 10 states has been completed and the report has been reviewed by ICMR expert committee and International Scientific Advisory Group. In view of the above recommendations, it has been recommended for roll out under RNTCP at Primary Health Centres (DMCs) in a phased manner. Also, active case finding pilot project has been initiated in five states for bridging gap in last mile delivery of services amongst tribal populations.
 Malaria Elimination Research Alliance (MERA) India: MERA India (Malaria Elimination Research Alliance) has been established to bring multiple stakeholders (national and international) under one umbrella to achieve the aim of disease elimination.
India Cancer Research Consortium:
Enhancing Outreach/Establishing new Centres in deficit/un-served areas
 ICMR has established Samrat Ashok Tropical Disease Research Centre at RMRI, Patna which will focus on research on various tropical diseases. The other development in the area of infrastructure development is the expanding outreach of ICMR in far flung and difficult areas like Keylong in Lahaul & Spiti district of Himachal Pradesh, establishment of satellite centre of National Institute of Immunoheamatology (NIIH), Mumbai at Chandrapur, Maharashtra for screening and management of sickle cell disease and field station of NIV Pune at Alappuzha (Allepy) and RMRC, Port Blair in Car Nicobar &Nancowry islands aimed at providing necessary health facilities. Process has also started for establishment of new Regional Medical Research Centre (RMRC) at Gorakhpur, UP for human public health related problems of eastern part of UP as well as Biomedical Research Centre in Guwahati, Assam. National Animal Resource Facility for Biomedical Research is being set up at Hyderabad. This will be first of its kind Institute for basic and applied biomedical research and will provide support to academic and private R&D groups for preclinical testing. NIIH-Centre for Research, Management and Control of Haemolglobinopathies, Chandrapur will cater to the needs of the entire Vidarbha region especially in the area of sickle cell anaemia. There are around 4,00,000 Sickle cell disease patients in this region along with approximately 40,00,000 sickle cell carriers. The Foundation Stone of was laid by Hon'ble Prime Minister in February, 2019. All these Centres will be further strengthened and made fully functional in the coming year.
E-Health/M-Health and Promoting Use of Space Technology Tools
 With the changing time,ICMR is focusing its efforts on using E-Health/M-Health and promote the use of Space Technology tools. ICMR has developed –a mobile based disease surveillance system
for malaria (MosQuit) using mobile platform. This technology has been developed by RMRC, Dibrugarh in collaboration with CDAC, Pune, which has been deployed in Tengaghat PHC of Assam. ICMR has also developed various e-learning programmes in Health Research as well as prepared databases like TB-DRUGS, DDRTB, Food and Nutrition Database, etc.
 To address the impact of climate change on human health and promote use of space technology tools ICMR has developed an early warning system of JE for Upper Assam, initiated studies on mapping of malaria and mosquito-genic conditions, developed models for predicting filariasis. These efforts will be up-scaled for larger use in the coming year.
 PBIT an online webserver for identification of drug targets for infectious diseases has been developed.
 ICMR-NIMR (National Institute of Malaria Research), Delhi has signed and MoU with ISRO-IIRS (Indian Institute of Remote Sensing), Dehradun for development of geospatial solution for disease surveillance particularly vector-borne diseases and work in the area of Health and GIS for disease modeling. Regulatory Issues in Research/deal with strong ethical dimensions
 Regulatory issues are also important for protecting public and patients and ICMR has developed various Bills/Guidelines which help to take care of the patients enrolled for research. The important among these are The Biomedical and Health Research Regulation Bill (Ethical Issues pertaining to Biomedical Research), Assisted Reproductive Technology Bill, Guidelines for Stem Cell Research, revised Bioethics guidelines and Bioethics guidelinefor health research involving children, National Guidelines for Gene Therapy Product Development & Clinical Trials (in collaboration with Department of Biotechnology (DBT)), guidelines for evaluation of nano- pharmaceuticals (in collaboration with DBT and Central Drugs Standard Control Organisation (CDSCO)). A white paper was released on use of e-Nicotine products that led to the ban of ENDS (Electronic Nicotine Delivery System) by MoHFW. The Prohibition of Electronic Cigarettes Bill, 2019 for the same has been passed.
Nutrition
 Mobile App on 'Dietary Guidelines For Indians: The App is based on the Recommended Dietary Allowances (RDAs) for Indians prescribed by NIN.
 Fortified Food to Fight Malnutrition: ICMR has come up with a micronutrient mix that is being considered by government for its flagship programmes.  Release of Indian Food Composition Tables: The new "Indian Food Composition Tables- 2017", comprising of data of 586 varieties of Indian foods and their nutritive values, was released.
 ICMR has taken up a project involving Nutrition Interventions in adolescent girls. 18 Navodaya Schools have been identified
 ICMR in collaboration with DBT and ICAR is working on, "Establishment of nutri- smart villages and backyard nutrigardens". 3 nutrition deficient districts have been identified.
 Development of a community based IEC intervention module for dietary salt restriction and reduction of blood pressure.
Disease Burden Estimation/Other Research Studies
 India's State-Level Disease Burden report released (Jointly by the Public Health Foundation of India (PHFI), ICMR & the Institute for Heath Metrics and Evaluation (IHME) that contained State-Level Disease Burden and Risk Factors estimates to improve health programmes and planning in India.
 National Anti-Microbial Resistance Surveillance Network (AMRSN) continued to enable compilation of National Data of AMR at different levels of Health Care. Pfizer one of the global leaders in anti-infectives and medical therapy is committed to combat AMR and has partnered with ICMR as part of its Corporate Social Responsibility (CSR) activity to achieve the unified goal of reducing AMR.
 National Hospital Based Rotavirus Surveillance Network: The study has been carried out at 4 Major referral labs, 7 ICMR's Regional labs and 23 hospital sites to observe the trend in burden of rotavirus diarrhoea as well as impact of Rotavirus vaccine under Universal Immunization Program (UIP).
 ICMR-INDIAB, an epidemiological study on diabetes: The study is a landmark study providing authentic epidemiological data on diabetes, prediabetes, hypertension, dyslipidemia and obesity from the various States of India. The ICMR-INDIAB study gains significance as it is collecting representative data from the various States and Union Territories in India. The study has been completed in 14 states and one UT and the data obtained has been shared with the State health departments. Data provide a snap shot of the existing burden of pre diabetes, diabetes, hypertension and obesity in the country.
 National Cancer Registry Programme: Since 1982 providing systematic, continuous data in cancer Incidence, burden, mortality, trends, clinical care and survival through 30 Population-Based Cancer Registries (PBCR)and 27 Hospital Based Cancer Registries(HBCR).
 Baseline serosurvey to assess the prevalence of antibodies for dengue, chikungunya and JE: This serosurvey is ongoing in 15 States of the country.
 Sentinel Surveillance for Congenital Rubella Syndrome (CRS) in India: The study has been initiated at 6 sites. Aim is assess the impact of Measles-Rubella vaccination in India.
 Hospital-based sentinel surveillance for Pneumonia and Invasive Bacterial Diseases (IBD): The study has been initiated at 6 sites. Aim is to assess the impact of Pneumococcal Conjugate Vaccine (PCV).
 To strengthen South-South collaboration in advancing health sciences research and to enhance local capacity and ownership, an MoU was signed between ICMR and African Union (AU) on 27th March 2019.
 MoU Signed with Population Council: Innovations to Improve & Institutionalize Data Quality & Analytics" to strengthen India's health data ecosystem.
 Signed a Declaration of Intent (DoI) with the National Institute of Allergy and Infectious Diseases (NIAD) of the National Institutes of Health, USA and the Bill & Melinda Gates Foundation (BMGF). This Declaration builds on an ongoing collaborative research and training programme between India and the U.S., including enhancement of research capacity.
 Established ICMR-AIIMS Computational Genomics Centre for providing services ; 31 ongoing data analysis
 National Ethics Committee Registry for Biomedical and Health Research has been set up. Ministry of Health and Family Welfare, Government of India had notified the New Drugs and Clinical Trials Rules -2019 that came into force from 19th March 2019. Under the Rules, Chapter IV entitled "Ethics Committee for biomedical and health research" states that Ethics Committees reviewing biomedical and health research should register with the authority designated by the Central Government in the Ministry of Health and Family Welfare, Department of Health Research (DHR).
 National Biorepository for AMR Bacterial Strains & AMR-Hub at ICMR NICED, Kolkata
 ICMR funded Centre for Advanced Research (CARE) in the areas of non-communicable diseases like acute myeloid leukemia (AML), young diabetes, intestinal diseases, kidney diseases, heart failure etc.