PPIs may not effectively relieve Throat symptoms of GERD: BMJ Study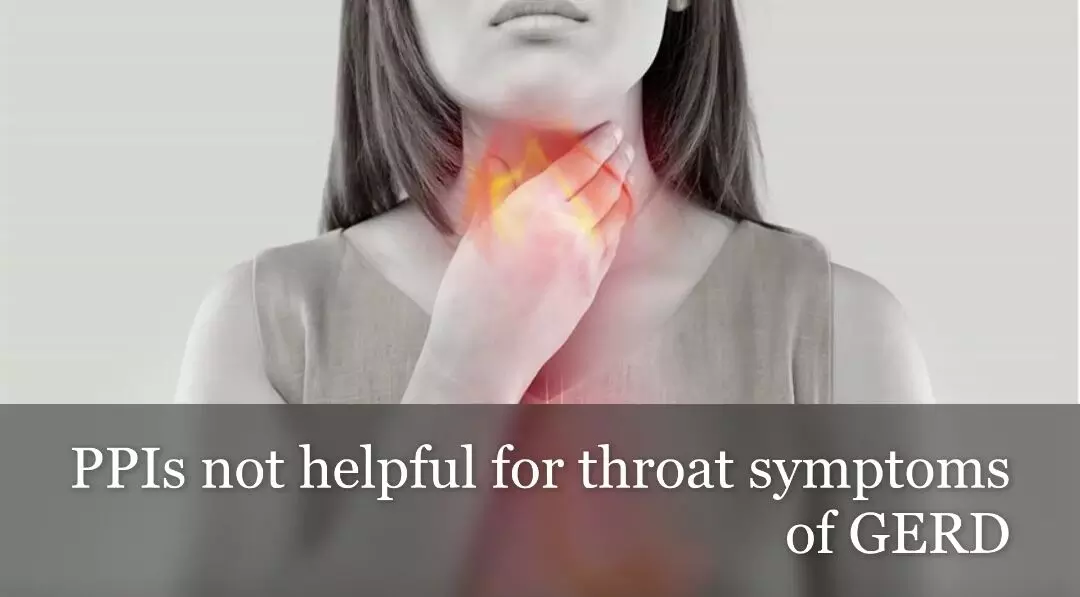 Gastroesophageal reflux disease (GERD) affects up to 20% of the Western population. An association between GERD and throat and voice symptoms is widely cited. Over a decade ago, more than half of British otolaryngologists prescribed proton pump inhibitors (PPIs) for throat symptoms. However, in a recent study, researchers have found no benefit from PPI treatment in patients with persistent throat symptoms. The study findings were published in the BMJ on January 07, 2021.

Persistent throat symptoms are a common presentation in primary and secondary care and principally comprise hoarseness; the sensation of a lump in the throat (globus); repeated throat clearing; mucus in the throat, or "catarrh"; cough; and throat discomfort. GERD and related symptoms have been described using a variety of terms, including extraesophageal reflux, laryngopharyngeal reflux, and reflux laryngitis. The concept of a link between GERD and throat and voice symptoms has become more popular, with open access to primary care guidelines advocating PPI treatment. The few randomised controlled trials that have compared PPIs with placebo are heterogeneous and generally underpowered. Increasing use of PPIs, at a cost to the National Health Service, has become the default treatment for persistent throat symptoms in primary and secondary care without robust evidence. Therefore, researchers of the UK conducted a study to investigate the role of PPIs as a pragmatic preferred treatment for throat symptoms in primary and secondary care.
It was a Pragmatic, multicentre, randomized, double-blind, placebo-controlled trial conducted in eight hospitals in the UK. Researchers included 346 patients aged 18 years or older with persistent throat symptoms and randomized them to receive either 30 mg lansoprazole twice daily (n=172) or matched placebo (n=174) twice daily for 16 weeks. The major outcome assessed was the symptomatic response at 16 weeks measured using the total reflux symptom index (RSI) score. They also assessed symptom response at 12 months, quality of life, and throat appearances.
Among 346 patients, researchers performed a primary analysis in 220 patients who completed the primary outcome measure within a window of 14-20 weeks. They observed similar RSI scores between treatment arms at baseline: lansoprazole 22.0 and placebo 21.7. By the end of 16 weeks, they observed Improvements (reduction in RSI score)in both groups: lansoprazole 17.4 and placebo 15.6 with an estimated difference of 1.9 points. However, they found no significant difference between the groups. They noted that Lansoprazole showed no benefits over placebo for any secondary outcome measure, including RSI scores at 12 months: lansoprazole 16.0 and placebo 13.6 with an estimated difference of 2.4 points.
The authors concluded, "No evidence was found of benefit from PPI treatment in patients with persistent throat symptoms. RSI scores were similar between the lansoprazole and placebo groups after 16 weeks of treatment and at the 12 month follow-up".
For further information:
Article Source :
the BMJ