Consideration for Use of Probiotics in Gastrointestinal Disorders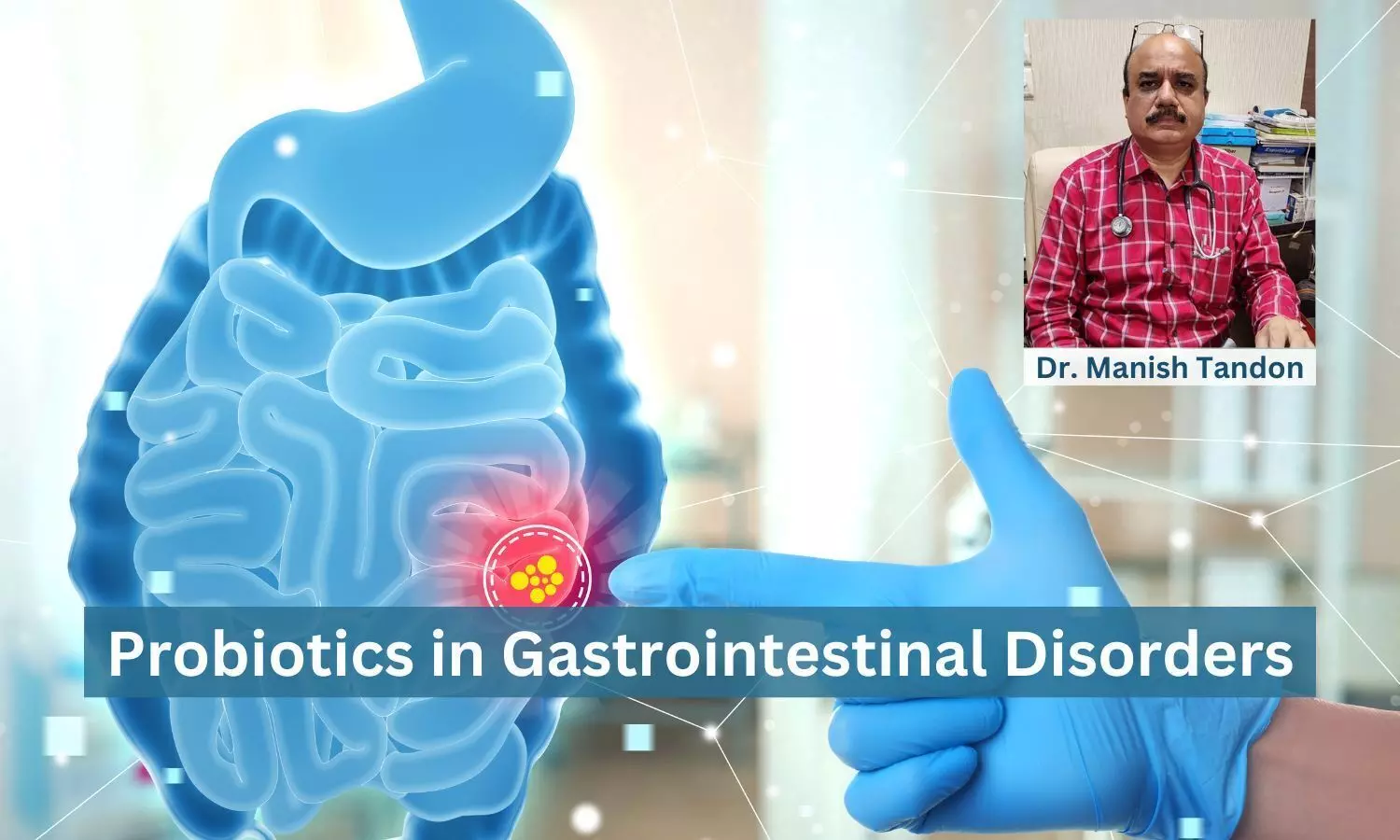 Gastrointestinal (GI) disorders account for about 10% of all consultations in primary care and have a major impact on quality of life and health care resources. (1) Gastro-oesophageal reflux disease (GERD), H. pylori infection, irritable bowel syndrome (IBS), inflammatory bowel disease (IBD), coeliac disease, antibiotic-associated diarrhea (ADA), infectious diarrhea, are some common GI disorders. (2)

The efficacy of probiotics in preventing and treating gastrointestinal disorders has received considerable attention in recent years. (2) This article will shed light on how probiotics are more or less effective in treating different gastrointestinal disorders.
Indian Burden and Factors Affecting GI Disorders The prevalence of self-reported gastrointestinal disorders in India is around 18%. Whereas the prevalence of gastroesophageal reflux disease (GERD) ranges from 2.5% to 7.1% in most population-based studies in Asia. (3)
Among Indian populations, the prevalence of GI disorders is higher in those who suffer from neurological or psychiatric problems (27%), hypertension (22%) and heart disease (23%). Adults from the age group 45–54 (1.11, p < 0.01) and 55–64 (1.09, p < 0.01) years are prone to gastrointestinal problems. (3)
Seasonal factors- GI disorders have been reported to occur throughout the year but show some seasonal variation. Among GI disorders, peptic ulcer disease is most prominent in colder months, while the peak incidence rate of Crohn's disease is during the spring and summer seasons.(4)
The use of antibiotics is a risk factor for gastrointestinal disorders and IBS in particular. Antibiotic treatment of non-gastrointestinal infections increases the chance of developing IBS [odds ratio (OR) = 2.30; 95% confidence interval (CI): 1.22-4.33; p=0.01] and other functional gastrointestinal disorders (OR = 1.90; 95%CI: 1.21-2.98; p=0.005). (5)
Medications such as anticholinergic medication, non-steroidal anti-inflammatory drugs (NSAIDs), metformin and psychotropic medications, such as antidepressants and antipsychotics, may induce GI symptoms and sometimes cause mucosal injury. (6)
Multiple lifestyle-related factors such as poor socioeconomic status, smoking, chewing tobacco, alcohol, and difficulty in activities of daily living and instrumental activities of daily living are other risk factors for gastrointestinal problems. (3)
The Rationale for Use of Probiotics in GI Disorders
Perturbation of bacterial microflora of the GI tract may play an important role in the pathophysiology of some GI disorders. (7) Probiotics, products or preparations containing sufficient amounts of viable microorganisms to alter a host's microflora communities, are thought to exert beneficial effects by providing protective barriers, enhancing immune responses, and clearing pathogens in the gastrointestinal tract. Efficacy may be due to a single strain, multiple strains or a combination of different probiotics. (2)
Multi-strain Probiotics: Potential Benefits in GI Disorders
Benefits: Single-strain probiotics benefit health, but multi-strain probiotics might be more helpful because of synergy and additive effects among the individual isolates. Multi-strain probiotics are known to exhibit better inhibitory effects on entero-pathogens, and enhanced benefits by combining effects of different strains compared to their single-strain preparations. (8)
Clinical Evidence -
Multistrain Probiotics help improve IBS symptoms: In adults with diarrhea-predominant IBS, a randomized double-blind placebo-controlled study assessed the efficacy and safety of multi-strain probiotics. For eight weeks, 51 patients were randomly assigned to receive either a placebo or a combination of Lactobacillus, Bifidobacterium, and Streptococcus strains. After eight weeks of the intervention, the multistrain probiotic significantly reduced the severity of IBS symptoms (change in total IBS-SSS score from baseline: -165.8±78.9 in the probiotic group and -105.6±60.2 in the placebo group, p=0.005) as well as specific scores related to the severity of pain (p=0.015) and quality of life (p=0.016). The result suggests that the studied probiotic preparation is well tolerated, safe and offers benefits for patients with IBS (9)
Multistrain Probiotics Helps in Gastrointestinal Bloating/Distention: A pilot study conducted on 10 patients with moderate to severe distention/ bloating scores (1.25–3.00) assessed the efficacy of multistrain probiotics consisting of Lactobacillus strain in improving the symptoms for 2 months. The result noted a significant improvement in total gastrointestinal tract 2.0 score (effect size[ES]=0.82), reflux (ES=0.33), bloating/distention (ES = 1.76), and emotional scales (ES = 0.18). This pilot study suggests multistrain probiotics are useful for treating reflux and distention/ bloating. (10)
Multistrain Probiotics Benefits IBS Patients: A randomised, double-blind, placebo-controlled trial determined the efficacy of multispecies probiotics (consisting of Lactobacillus and Streptococcus strains) on IBS symptoms. The study enrolled 49 participants who were randomized to receive either multistrain probiotics twice a day for 4 weeks or to receive a placebo twice a day for 4 weeks. The result noted that the relieving rate of IBS symptoms was significantly higher in the probiotics group than in the placebo group: 68.0% (17/25) versus 37.5% (9/24) (p< 0.05). Improvement in abdominal pain/discomfort and bloating occurred in the probiotics group but not in the placebo group. The study concluded that multispecies probiotics are effective in IBS patients and induce alterations in intestinal microbiota composition. (11)
Multistrain Probiotics: Synergistic Infection Fighting Benefits Along with Antibiotics: Probiotics exert an immunomodulatory effect and have the potential to communicate and interact with a series of immune cells. Many Lactobacillus species exert their immune regulatory effects via NLRs by producing IL10 via regulation of NOD2 and by binding to TLR2, which recognises peptidoglycan. Probiotics also showed anti-inflammatory characteristics via NF-κB pathway regulation, downregulating the Th1 pro-inflammatory response and improving the Th2 response. (12). Probiotics also reduced the incidence of AAD, a common adverse effect of antibiotics, by 38% (pooled relative risk, 0.62; 95% confidence interval, 0.51-0.74). (13)
Gastrointestinal Disorders Benefiting from Use of Probiotics- Guideline Recommendations-
The World Gastroenterology Organisation Global Guidelines on Prebiotics and Probiotics 2023 listed the beneficial effects. They recommended multi-strain probiotics containing Lactobacillus and Streptococcus strains for the improvement of abdominal pain, IBS and type symptoms, induction and maintenance of remission of Ulcerative colitis, treatment of active IBD paucities, improvement of defecation frequency and symptoms in functional constipation. (14)
Take Home Message
Gastrointestinal disorders have grown due to considerable lifestyle changes.
Probiotics are beneficial in the treatment and prevention of gastrointestinal diseases. When choosing to use probiotics in treating GI disorders, the type of disease and probiotic species (strain) are the most important factors to consider.
Multistrain probiotics exhibit better inhibitory effects on entero-pathogens and enhanced benefits by combining the effects of different strains compared to their single-strain preparations.
Clinical studies have suggested that multistrain probiotics of Lactobacillus and Streptococcus strains help alleviate symptoms of different GI disorders.
Multistrain also reduced the adverse effects of antibiotic therapy, such as diarrhea.
Global guidelines on Prebiotics and Probiotics (2023) by WGO recommended multistrain probiotics consisting of Lactobacillus and Streptococcus strains in treating different spectrums of GI disorders.
Reference:

1. Russo M, Miraglia C, Nouvenne A, Leandro G, Meschi T, De' Angelis GL, Di Mario F. Approach to gastroenterological diseases in primary care. Acta Biomed. 2018 Dec 17;89(8-S):5-11. doi: 10.23750/abm.v89i8-S.7973.
2.
Ritchie ML, Romanuk TN. A meta-analysis of probiotic efficacy for gastrointestinal diseases. PLoS One. 2012;7(4):e34938. doi: 10.1371/journal.pone.0034938. Epub 2012 Apr 18.
3. Dawoodi S, Dawoodi I, Dixit P. Gastrointestinal problem among Indian adults: Evidence from longitudinal aging study in India 2017-18. Front Public Health. 2022 Sep 26;10:911354. doi: 10.3389/fpubh.2022.911354.
4. Fares A. Global patterns of seasonal variation in gastrointestinal diseases. J Postgrad Med. 2013 Jul-Sep;59(3):203-7. doi: 10.4103/0022-3859.118039.
5. Mamieva Z, Poluektova E, Svistushkin V, Sobolev V, Shifrin O, Guarner F, Ivashkin V. Antibiotics, gut microbiota, and irritable bowel syndrome: What are the relations? World J Gastroenterol. 2022 Mar 28;28(12):1204-1219. doi: 10.3748/wjg.v28.i12.1204.
6. Philpott HL, Nandurkar S, Lubel J, Gibson PR. Drug-induced gastrointestinal disorders. Frontline Gastroenterol. 2014 Jan;5(1):49-57. doi: 10.1136/flgastro-2013-100316. Epub 2013 Jun 19.
7. Verna EC, Lucak S. Use of probiotics in gastrointestinal disorders: what to recommend? Therap Adv Gastroenterol. 2010 Sep;3(5):307-19. doi: 10.1177/1756283X10373814.
8. Kwoji ID, Aiyegoro OA, Okpeku M, Adeleke MA. Multi-Strain Probiotics: Synergy among Isolates Enhances Biological Activities. Biology (Basel). 2021 Apr 13;10(4):322. doi: 10.3390/biology10040322.
9. Skrzydło-Radomańska B, Prozorow-Król B, Cichoż-Lach H, Majsiak E, Bierła JB, Kanarek E, Sowińska A, Cukrowska B. The Effectiveness and Safety of Multi-Strain Probiotic Preparation in Patients with Diarrhea-Predominant Irritable Bowel Syndrome: A Randomized Controlled Study. Nutrients. 2021 Feb 26;13(3):756. doi: 10.3390/nu13030756.
10. Frech TM, Khanna D, Maranian P, Frech EJ, Sawitzke AD, Murtaugh MA. Probiotics for the treatment of systemic sclerosis-associated gastrointestinal bloating/ distention. Clin Exp Rheumatol. 2011 Mar-Apr;29(2 Suppl 65):S22-5. Epub 2011 May 12.
11. Yoon JS, Sohn W, Lee OY, Lee SP, Lee KN, Jun DW, Lee HL, Yoon BC, Choi HS, Chung WS, Seo JG. Effect of multispecies probiotics on irritable bowel syndrome: a randomized, double-blind, placebo-controlled trial. J Gastroenterol Hepatol. 2014 Jan;29(1):52-9. doi: 10.1111/jgh.12322.
12. Raheem A, Liang L, Zhang G, Cui S. Modulatory Effects of Probiotics During Pathogenic Infections With Emphasis on Immune Regulation. Front Immunol. 2021 Apr 8;12:616713. doi: 10.3389/fimmu.2021.616713.
13. Liao W, Chen C, Wen T, Zhao Q. Probiotics for the Prevention of Antibiotic-associated Diarrhea in Adults: A Meta-Analysis of Randomized Placebo-Controlled Trials. J Clin Gastroenterol. 2021 Jul 1;55(6):469-480. doi: 10.1097/MCG.0000000000001464.