World Obesity Day: Understanding the Impact of obesity on COVID-19 disease severity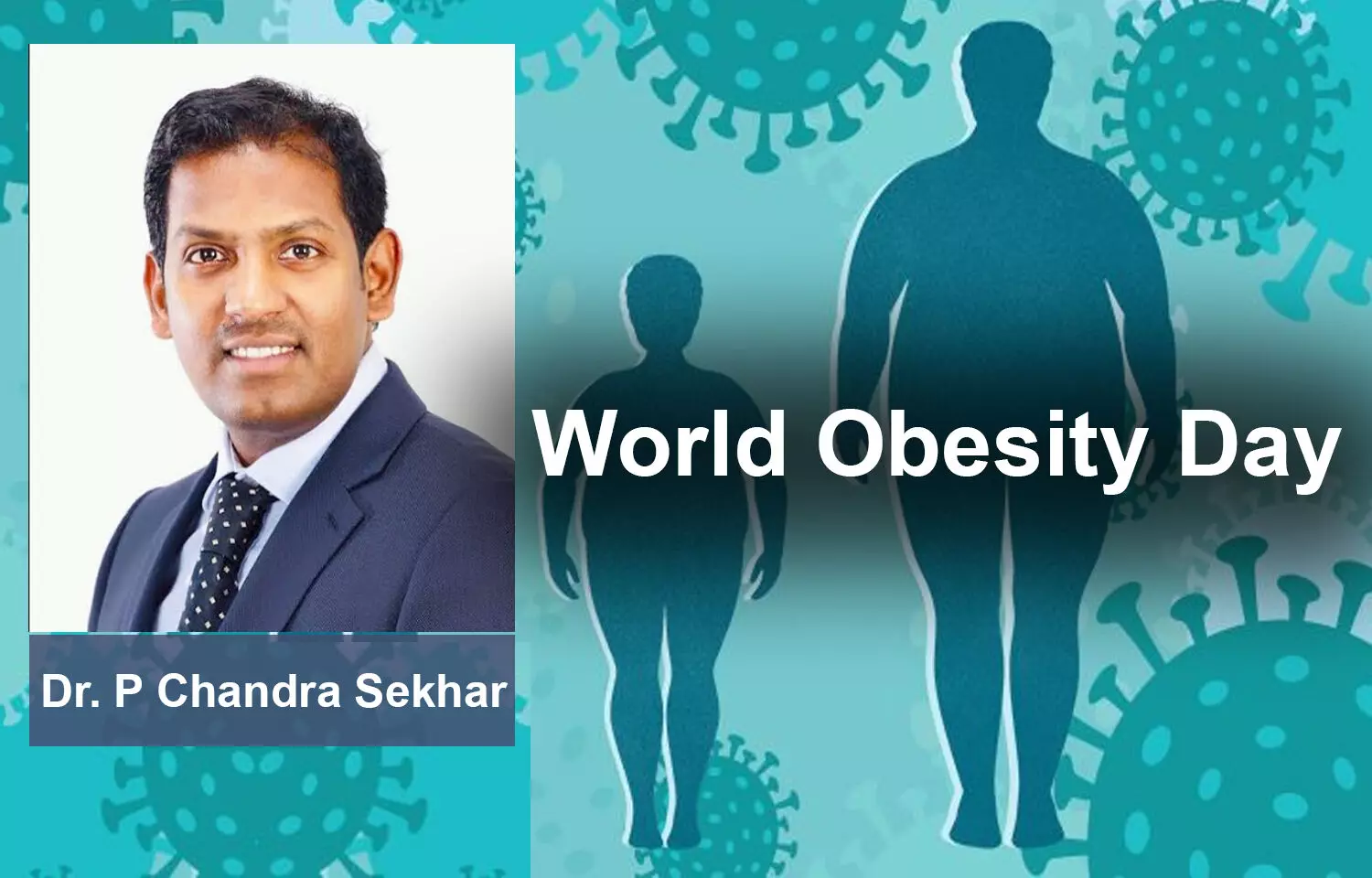 Obesity has become pandemic owing to an obesogenic environment. Obesity is a complex condition, one with serious social and psychological dimensions, that affects virtually all age and socioeconomic groups and threatens to overwhelm both developed and developing countries. It is associated with several chronic diseases including type 2 diabetes, heart diseases, stroke, and certain types of cancers. It significantly reduces the quality of life and is one of the leading causes of death, worldwide. Recent evidence has shown that obesity weakens the immune system and therefore, making the host vulnerable to infectious diseases. Indeed, Obesity has emerged as a strong risk factor for severe disease in the current pandemic disease, COVID-19.

Covid-19 novel coronavirus pandemic has so far infected millions resulting in the death of over a million people as of Oct 2020. Of them >90% infected with COVID-19 show mild or no symptoms but the rest of the infected cases show severe symptoms resulting in significant mortality. Age has emerged as a major factor to predict the severity of the disease and mortality rates are significantly higher in elderly patients.
Besides, patients with underlying conditions like Type 2 diabetes, cardiovascular diseases, hypertension, and cancer have an increased risk of severe disease and death due to COVID-19 infection. Obesity has emerged as a novel risk factor for hospitalization and death due to COVID-19. The global fatality rate of Covid-19 is ~ 3%, although great differences exist with some countries (France & the United Kingdom) recording a high death rate of ~ 10% and others (India, Israel, Russia) reporting less than 2% mortality rates. Several epidemiological studies strongly suggest a link between age and severity of the illness. More than 75% of the deaths have been reported in patients aged 65 years or above. Also, people with co- morbidities such as diabetes, cardiovascular diseases, hypertension, and cancer have significantly higher mortality rates. Recent studies emerging from multiple countries have shown that obesity may be an independent factor to predict the risk and outcome of COVID-19 patients. High body mass index (BMI) has particularly been found to be a strong indicator of disease severity in patients younger than 60 years of age.
Impact of obesity on COVID-19 disease severity
A retrospective study from Lille, France analysed the relationship between body mass index BMI and requirement for invasive mechanical ventilation (IMV) in 124 consecutive patients admitted in intensive care for SARS-COV-2.Interestingly, obesity was also a standout factor for the requirement of Intermittent Mandatory Ventilation (IMV).In a study from few hospitals in Wenzhou, China, Zheng et al. demonstrated that obesity was a major risk factor for the severity of COVID-19 in a group of patient's metabolic associated fatty liver disease (MAFLD).It was concluded that patients with extreme obesity (BMI of > 35 kg/m2) are at high risk of severe COVID-19.Younger patients(Age < 60 years) with a BMI > 30 kg/m2 were more than twice likely to be admitted to hospital and develop critical illness compared to patients with a BMI < 30 kg/m2. The likelihood of admission to ICU increased to 3.6 times in patients with severe obesity (BMI ≥ 35 kg/m2).It was concluded that after age, obesity was the single most important factor for hospitalized patients with COVID-19.
What makes the obese host so vulnerable?
People with obesity have an increased prevalence of diseases like renal insufficiency, cardiovascular diseases, Type 2 diabetes mellitus, certain types of cancers, and a significant degree of endothelial dysfunction. These conditions are major risk factors for disease severity and mortality associated with COVID-19. This makes obesity, particularly ominous in COVID-19. However, there is enough evidence to suggest that obesity is an additional risk factor associated with worse outcomes in COVID-19 patients.it was found that obesity remained a significant factor for poor outcome of patients having other chronic issues like Hypertension, Dyslipidaemia, Type 2 diabetes, Cardiomyopathy, Chronic pulmonary diseases, and malignancy.
Obesity-associated inflammation and its impact on SARS-CoV-2 infection
The obese subjects have higher levels of various inflammatory signals and, are more likely to overreact to coronavirus infection. It was found that inflammatory markers were positively correlated with the severity of COVID-19.High rate of hospital admission in obese subjects can be partly explained by low-grade inflammation.
Cellular immune function is impaired in obesity
Several lines of evidence have strongly indicated that obesity results in significant changes in both innate and adaptive immune response and individuals with obesity are in a state of chronic and low-grade inflammation. The overall result is a reduced immune response to infectious agents, resulting in poorer outcomes post-infection. Excess fat deposition disrupts lymphoid tissue architecture and integrity.
Lipid accumulation of lymphoid organs is known to occur in older people and adversely affect their immunity. Consequently, obesity is assumed to promote premature "aging" of the immune system .Overall, obesity disturbs immune system integrity and significantly alters leukocyte growth, movement, and diversity. Indeed, a recent study showed that BMI was inversely correlated with total lymphocyte count in COVID-19 patients.
Besides insulin, leptin the hormone that is secreted from adipocytes exerts profound effects on innate and adaptive immunity.
Altered ACE2 expression in obese subjects may impact COVID-19 disease severity.
Interestingly, ACE-2 expression is higher in adipose compared to lung tissue, which is the primary target of COVID-19 Consequently, excess adipose as seen in obesity would make it an easy target for the virus entry and spread and therefore, cause severe disease with bad clinical outcomes. Recent evidence has shown that obesity weakens the immune system and therefore, making the host vulnerable to infectious diseases. Indeed, Obesity has emerged as a strong risk factor for severe disease in the current pandemic disease, COVID-19. Several independent studies have demonstrated that obese subjects with COVID-19 have a higher risk of severe disease, hospitalization, and increased probability of death. During the 2009 HIN1 pandemic, patients with severe obesity were more likely to require hospitalization, ICU admission, and death due to the disease. Over the years it was found that obesity negatively impacts host immune defines making it vulnerable to infectious disease. Besides, metabolic changes associated with obesity such as insulin and leptin resistance negatively impact immune cell function. Together these changes have a substantial influence on immune cell growth and proliferation, glucose metabolism, and activation which ultimately results in impairment of host immune defines.
Disclaimer: The views expressed in the above article are solely those of the author/agency in his/her private capacity and DO NOT represent the views of Medical Dialogues.Read website full disclaimer here