Ghaziabad Doctor cheated of Rs 5 lakh by men pretending to be Health Department Officials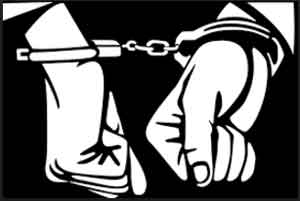 Ghaziabad: A group of four men were arrested for duping Rs 5 lakh rupees from a medical practitioner, one Dr Mahanand in Ghaziabad on Friday.
The perpetrators had disguised themselves to be Health inspectors while executing their plan to trap the doctor for money. The investigation revealed that one of the culprits was an acquaintance of the doctor, who had the knowledge that doctor earned lakhs of rupees after selling his plot in Ghaziabad. He then hatched a plan to dupe the doctor out of his money. As a result, three of his accomplice, pretending to be health department officials barged into the clinic of the doctor and began blackmailing him for money. They threatened doctor for using expired medical drugs
Rakesh Kumar Mishra,  Circle Officer, Sahibabad, informed 
Millennium Post
, "The team threatened Mahanand of indulging in false practice and using expired drugs, and threatened to send him to jail if he did not follow their direction. They asked a bribe of Rs 20 lakh from the doctor in order to leave him. However, the doctor paid them Rs 5 lakh," added Mishra. He continued, "Later when he enquired at the district health department, he found that no such officers work with the health department record. He then registered a case in this regard."
The four men were identified as Ravinder alias Tinku from Sahibabad, Preetam Singh from Ghaziabad, and Kapil and Kamal alias Bhoore, both from Delhi.
"The gang members had, on September 9, posed as senior officers from the district health department, while Kamal introduced himself as a health inspector, and barged into the residence of Dr Mahanand in Rampark area." Mishra added
All four of them were picked up from their respective hideouts in a raid conducted by the police on Thursday night. The police seized four mobile phones, two fake medical certificates and two fake identity proofs owned by the accused people.