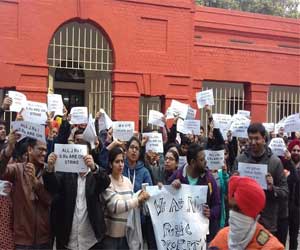 Amritsar: Chaos seems to be prevalent in the premises of Government Medical College and Hospital (GMCH), Amritsar, as the resident doctors are on an indefinite strike for the second day alleging inaction over an eve-teasing of two female doctors by a Security guard.
The case concerns two resident doctors who were returning from the duty to the Gurunanak Dev Hospital when the guard in the campus allegedly misbehaved with them. This agitated the doctors.
According to media reports, few doctors associated with resident doctors' Union of Punjab met the officials  to put forward some of their demands. Their demands had been taken into consideration but the doctor's anger sparked when an authority allegedly used the word 'Saman' to describe the doctors who faced the misbehavior.
According to local reports, quoting the students who informed regarding the matter, he allegedly gave a statement, "SWARI APNE SMAAN DI AAP JIMEWAR HAI" which fueled the anger in the doctors.
Read Also: Misbehaving with Doctor: Human Rights Commission sends notice to Deputy Mayor
It is further reported that later the official apologized for the statement, but the junior doctors are demanding his resignation.
Dr JP Singh, president, RDAP said "When we lodged our complaint, the medical superintendent shrugged off the responsibility and tried to hush it up. We demand action against the culprits as well as resignation of the medical superintendent (MS)," reports the Tribune.
"We also demand round-the-clock security for resident doctors and action in another incident as well wherein a junior resident was thrashed on duty. We will continue with our strike until our demands are met," he further added.
However, few faculty members of the institute came forward in support of the Medical Superintendent. They said the case against the accused guard has already been registered and the officer has already apologized for his words. If he resigns, the faculty members will also resign in his support.
The Resident Doctors' Association (RDA) of All India Institutes of Medical Sciences (AIIMS), Delhi came in solidarity with the protestion doctors at GMC. The association drafted a letter to the Health Minister of Punjab regarding the security of doctors at GMC Amritsar.
3 comment(s) on GMC Amritsar: 2 Doctors eve teased, Resident Doctors on Strike after Authorities Inaction