Goa: Legislator stresses on Monkey Fever Screening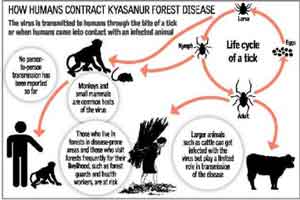 Panaji: A Goa legislator demanded compulsory screening of villagers in the remote forested areas in Sattari sub-district for the rare Kyasanur Forest Disease (KFD).
Three people have so far been diagnosed with the disease, known locally as monkey fever.
Health minister Francis D'Souza told the Goa assembly there was need to increase awareness about the disease, but bemoaned lack of public enthusiasm vis-a-vis the vaccination drive.
"The monkey fever has affected more people now. It is a serious matter. A compulsory blood-test drive should be conducted in places where the disease has surfaced to check its root cause," Congress MLA from Valpoi, Vishwajeet Rane, told the assembly.
In April last year, a National Centre for Disease Control team visited the village in Pali, after KFD claimed nine lives in quick succession.
The KFD is caused by a virus first identified in 1957 after its isolation from a sick monkey from the Kyasanur Forest in Karnataka. Kyasanur Forest Disease (KFD), also referred to as monkey fever is an infectious bleeding disease in monkey and human caused by a highly pathogenic virus called KFD virus (KFDV). KFDV is of zoonotic origin (originating from animals) and it is transmitted primarily by infective tick, Haemaphysalis spinigera.
Since 1957, around 400-500 people across Western India have been infected by the rare disease that is spread by parasitic ticks which monkeys host.
D'Souza claimed that the directorate of health services was trying to create awareness in affected areas but lack of public response scuttled the initiative.
"Last year, we began a vaccination programme but the public response in affected villages was not good," D'Souza said, adding the disease was not contagious.