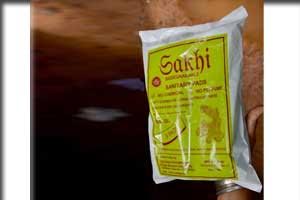 Panaji: A small-time Self Help Group (SHG) has become the front runner in promoting menstrual health along with the cause of saving environment, in Goa by widely manufacturing bio-degradable sanitary napkins.
The SHG comprising nearly 10 women from Pilgao village under firm Teeratan Enterprises, located in Bicholim in north Goa, are engaged in the manufacturing of bio-degradable pads for the past two years.
"The basic problem with regular sanitary pads is that they are not easily degradable in soil after use. But the pads we manufacture, are made of pine wood paper. So, these pads after used are buried in mud and gets degraded within eight days," said Jayashree Parwar, who heads the SHG.
She claimed that the concept of manufacturing bio-degradable sanitary pads was first mooted and developed in the country by Tamil Nadu.
There are SHGs which produce such pads in Tamil Nadu, but in Goa, their SHG was the first to take up the concept and work on it, while others shied away from the idea, which was first introduced by a social activist, nearly two years ago.
Parwar said that their product, named 'Sakhi', has not been widely accepted by pharmacy stores in the state, which has forced them to reach out in the market through means like fairs, cultural festivals and their local contacts.
Different from the usual plastic-made pads, this product has pine wood paper, silicon paper, butter paper, non-woven cloth and cotton, she said.
The firm currently has four machines which can make 100 pads a day.
In the last two years, the group has produced and marketed 2,000 pads, she said.
The pipe wood paper is imported from Tamil Nadu, she adding that the napkins are treated with UV radiations before they are packed.
For Parwar, it was not an easy beginning as marketing the product became difficult due to availability of similar non-bio degradable products in the market, which are heavily advertised through television media.
"When we went to market the product, we were told that no one will buy it as it is not advertised on TV. Few of our known people helped us in marketing, but on a small scale," she said.
Parwar, however, said their product commands a good demand from Kolhapur, Kerala and Mangalore besides Goa, and are gradually reaching out to a customer base in Hyderabad, Aurangabad and Bangaluru.
0 comment(s) on Goa SHG leads way in making eco friendly sanitary pads